Mathematical Models of Optimal Antibiotic Treatment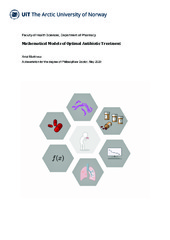 View/Open
Thesis introduction, papers 1, 2 & 3 (PDF)
Entire thesis in one comprehensive file (PDF)
Date
2020-06-09
Type
Doctoral thesis
Doktorgradsavhandling
Abstract
When bacteria are exposed to antibiotics, the rate of killing can slow down dramatically over time. This phenomenon can be observed both in vitro and in vivo. In vitro, the mechanistic explanations for this can be divided into two main categories: antibiotic persistence and heteroresistance. In vivo, both mechanisms thought to contribute to observed slowdowns in the elimination and as a result may prolong the necessary treatment lengths. Therefore, by mitigating the slowdown it might be possible to shorten antibiotic treatments, however this is yet to be shown conclusively. This is also the case in tuberculosis when treatment regimens take at least 6 months. This thesis focuses on heteroresistance and its effects on the treatments lengths necessary to eliminate bacteria, particularly in the treatment of tuberculosis. To do so, I expand the mathematical toolbox of modeling heteroresistance on different scales, ranging from modeling chemical reaction kinetics to modeling multiple bacterial colonies within the tissues of patients. In addition, I analyzed clinical trials on high rifampicin doses in tuberculosis patients to show that heteroresistance the likely cause of the observed slowdown in elimination within the trial.
Has part(s)
Paper 1: Clarelli, F., Liang, J., Martinecz, A., Heiland, I. & Abel zur Wiesch, P. (2020). Multi-scale modeling of drug binding kinetics to predict drug efficacy. Cellular and Molecular Life Sciences, 77, 381–394. Also available in Munin at https://hdl.handle.net/10037/17220.
Paper 2: Martinecz, A. & Abel zur Wiesch, P. (2018). Estimating treatment prolongation for persistent infections. Pathogens and Disease, 76(6), fty065. Also available in Munin at https://hdl.handle.net/10037/14629.
Paper 3: Martinecz, A., Clarelli, F., Abel, S. & Abel zur Wiesch, P. (2019). Reaction Kinetic Models of Antibiotic Heteroresistance. International Journal of Molecular Sciences, 20(16), 3965. Also available in Munin at https://hdl.handle.net/10037/15963.
Paper 4: Martinecz, A., Boeree, M., Diacon, A., Dawson, R., Aarnoutse, R. & Abel zur Wiesch, P. High peak rifampicin plasma concentrations accelerate the slow phase of bacterial elimination in tuberculosis patients: evidence for heteroresistance. (Manuscript).
Paper 5: Martinecz, A., Abel zur Wiesch, P. & Regoes, R. Heteroresistance increases the necessary treatment length in a within-host metapopulation model. (Manuscript).
Publisher
UiT The Arctic University of Norway
UiT Norges arktiske universitet
Collections
Copyright 2020 The Author(s)
The following license file are associated with this item: