Internet-based patient communication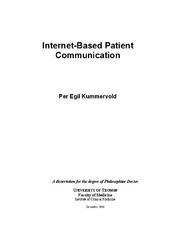 Åpne
Thesis introduction (PDF)
Kummervold, P. E., Gammon, D., Bergvik, S., Johnsen, J., Hasvold, T., & Rosenvinge, J.: 'Social support in a wired world - use of online mental health forums in Norway.' Nordic Journal of Psychiatry (2002), 56(1), 59-65. © Taylor & Francis. Reprinted with permission. (PDF)
Kummervold, P.E., Chronaki, C. E., Lausen, B., Prokosch, H. U., Rasmussen, J., Santana, S., Staniszewski, A., & Wangberg, S. C.: 'eHealth Trends in Europe 2005-2007: A Population-Based Survey.' Journal of Medical Internet Research, 10(4), e42 (2008). © The journal. Reprinted with permission. (PDF)
Wangberg, S. C., Andreassen, H. K., Wynn, R., Kummervold, P. E., & Sørensen, T.: 'Health Online: Trends in Norway 2000-2010.' Scandinavian Journal of Caring Sciences (in press). © Wiley. Reprinted with permission. The definite version is available at www.wileyinterscience.com. (PDF)
(PDF)
Dato
2009-05-22
Type
Doctoral thesis
Doktorgradsavhandling
Sammendrag
Objective
To investigate some of the consequences that electronic health communication has for patients, health professionals and society at large. The underlying studies investigate reasons patients provide for using online communication solutions, the current propagation and pace of Internet health communication, and whether such services would replace conventional health communication channels.
Methods
These objectives were addressed in three separate studies, all using different methodological approaches. The exploratory study used online questionnaires, receiving 492 responses. The population study used telephone interviews with 14,956 respondents from seven different European countries, while the intervention study was designed as a randomised controlled trial with a total of 200 patients.
Results
The results showed that patients found advantages in online communication, and some reported that it was easier to talk about sensitive subjects online. For all the seven studied European countries, there was significant growth in the proportion of the population using Internet for health purposes in the period 2005-2007. More patients are using the Internet as an active communication channel, both for reaching health professionals and for reaching peers. Direct electronic communication was shown to replace other communication channels, especially face-to-face consultations in family doctor settings.
Conclusions
Internet-based patient communication is starting to become an important part of today's health care systems. To some degree, conventional communication channels are being replaced by online alternatives. However, there still appears to be potential for further growth. It is clear that in addition to the practical advantages of asynchronous communication in flexibility and saved travelling time, such communication also gives patients the time they need to formulate their questions.
Beskrivelse
Papers 4 and 5 of the thesis are not available in Munin due to publishers' restrictions:
4. Kummervold, P. E., Trondsen, M., Andreassen, H., Gammon, D., & Hjortdahl, P.: 'Erfaringer med lege-pasient-kontakt over Internett.' Tidsskrift for Den norske legeforening (2004), 124(20), 2633-2636. Available at
http://www.tidsskriftet.no/index.php?seks_id=1086346
5. Bergmo, T., Kummervold, P. E., Gammon, D., Dahl, L. B.: 'Electronic patient–provider communication: Will it offset office visits and telephone consultations in primary care?' International Journal of Medical Informatics (2005), 74(9), 705-710 (Elsevier). Available at
http://dx.doi.org/10.1016/j.ijmedinf.2005.06.002
Forlag
Universitetet i Tromsø
University of Tromsø
Følgende lisensfil er knyttet til denne innførselen: