Consumption of antibacterial agents : pharmacoepidemiology, resistance and interventions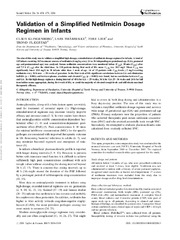 View/Open
Klingenberg C, Småbrekke L, Lier T, Flægstad T.: 'Validation of a simplified netilmicin dosage regimen in infants.' Scandinavian Journal of Infectious Diseases 2004; 36(6-7): 474-9. © Taylor & Francis. Reprinted with permission. (PDF)
Småbrekke L, Berild D, Giæver A, Myrbakk T, Fuskevåg A, Ericson JU, Flægstad T, Olsvik Ø, Ringertz SH.: 'Educational intervention for parents and healthcare providers leads to reduced antibiotic use in otitis media.' Scandinavian Journal of Infectious Diseases 2002; 34(9): 657-9. © Taylor & Francis. Reprinted with permission. (PDF)
Thesis introduction (PDF)
Date
2009-09-03
Type
Doctoral thesis
Doktorgradsavhandling
Abstract
Det overordnede målet med prosjektene som inngår i avhandlingen har vært å bidra til mer kunnskap om rasjonell bruk av antibiotika. Prosjektene er gjennomførte i allmennpraksis, og i sykehus i henholdsvis Norge, Danmark, Island og Sverige.
Det første delprosjektet undersøkte vi om det var mulig å endre forskrivning av antibiotika ved akutt mellomørebetennelse hos barn som kom til en legevakt. Studien viste at det var mulig å endre antibiotikaforskrivningen med relativt beskjeden innsats. Sammenlignet med en kontrollgruppe var det i intervensjonsgruppa en lavere andel som fikk diagnosen akutt mellomørebetennelse, en lavere andel som fikk resept på antibiotika og de som fikk resept fikk hyppigere foreskrevet smalspektret terapi.
I det andre delprosjektet beskrev vi forekomst av ampicillin, gentamicin og vankomycin resistens i kliniske enterokokkisolat fra fem land i norden. Isolatene var samlet fra både sykehus og allmennpraksis. Vi relaterte resistens til nasjonalt forbruk av antibiotika og til antibiotikaforbruket ved de respektive sykehusene. Enterococcus faecalis forekom hyppigst, men viste ikke redusert følsomhet for ampicillin. Andelen av resistente stammer av Enterococcus faecium varierte fra 33 – 66 % mellom sykehusne. High level gentamicin resistens (HLGR) blant E. faecium ble kun påvist ved ett sykehus. Vi fant ikke resistens mot vankomycin, og data tillot ikke å trekke slutninger om eventuelle kausale sammenhenger mellom antibiotikabruk og resistens.
I det tredje prosjektet sammenlignet vi insidensen av tarminfeksjon med Clostridium difficile ved to store sykehus i Norge. Forbruksprofilene av antibiotika ved disse sykehusene var svært ulike, og vi fant høyest innsidens ved det sykehuset som hadde den antatt gunstigste forbruksprofilen. Dette kan bare tolkes på den måten at andre variabler enn antibiotikabruk bidrar til økt forekomst av tarminfeksjon med denne bakterien.
I det siste prosjektet validerte vi et netilmicin høydoseregime for nyfødte. Studien viste at halveringstiden for netilmicin var omvendt proporsjonal med gestasjonsalder i første leveuke, og at det var nødvendig å øke doseringsintervallet hos de aller yngste barna. Halveringstiden økte ved økende konsentrasjon plasmakreatinin.
Description
Papers number 2 and 3 of the thesis are not available in Munin due to publishers' restrictions:
2. Simonsen GS, Småbrekke L, Monnet DL, Sørensen TL, Møller JK, Kristinsson KG, Lagerqvist-Widt A, Torell E, Digranes A, Harthug S, Sundsfjord A.: 'Prevalence of resistance to ampicillin, gentamicin and vancomycin in Enterococcus faecalis and Eterococcus faecium from clinical specimens and use of antimicrobials in five Nordic hospitals.' Journal of Antimicrobial Chemotherapy 2003; 51(2): 323-31 (Oxford University Press). Available at
http://dx.doi.org/10.1093/jac/dkg052
3. Berild D, Småbrekke L, Halvorsen DS, Lelek M, Stahlsberg EM, Ringertz SM.: 'Clostridium difficile infections related to antibiotic use and infection control facilities in two university hospitals.' Journal of Hospital Infection 2003; 54(3): 202-6 (Elsevier). Available at
http://dx.doi.org/10.1016/S0195-6701(03)00149-X
Publisher
Universitetet i Tromsø
University of Tromsø
Collections
Copyright 2009 The Author(s)
The following license file are associated with this item:
Related items
Showing items related by title, author, creator and subject.
Andersen, Sigve

;

Dønnem, Tom

;

Al-Shibli, Khalid Ibrahim

;

Al-Saad, Samer

;

Stenvold, Helge

;

Busund, Lill-Tove

;

Bremnes, Roy M.

(

Journal article; Tidsskriftartikkel; Peer reviewed

,

2011

)

Angiopoietins and their receptor Tie-2 are, in concert with VEGF-A, key mediators in angiogenesis. This study evaluates the prognostic impact of all known human angiopoietins (Ang-1, Ang-2 and Ang-4) and their receptor Tie-2, as well as their relation to the prognostic expression of VEGF-A. 335 unselected stage I-IIIA NSCLC-patients were included and tissue samples of respective tumor cells and ...

Smedsrød, Bård

(

Book; Bok

,

2008-08-31

)

Abstract book of the symposium

Gabrielsen, Endre

(

Master thesis; Mastergradsoppgave

,

2012-06-01

)

I 1983 oppdaget zur Hausen sammenhengen mellom Humant Papillomavirus (HPV) og livmorhalskreft. På denne tiden visste man ikke at det var HPV som var årsaken til at Helaceller kunne leve in vitro. Ny forskning relaterer HPV til en rekke andre cancertyper. En stor andel anal-, oropharyngeal-, penis-, vaginal-, og vulvacancer skyldes HPV. Det er også påvist HPV i tumorvev fra øsofagus, larynx, lunge, ...