Dealing with fear: Managing life-threatening events in different cultural contexts. An empirical study with case design using qualitative interviews and participant observation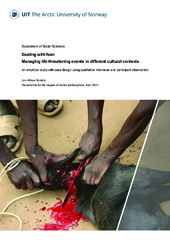 View/Open
Thesis introduction, Papers I, II & IV (PDF)
Entire thesis in one comprehensive file (PDF)
File(s) with restricted access are under embargo until
2026-09-17
Date
2021-09-17
Type
Doctoral thesis
Doktorgradsavhandling
Abstract
Background: Life-threatening events come in various forms, affecting individuals and their societies by evoking fear. Collective dangers such as terrorist attacks, war, conflict, and natural disasters may create societal chaos and suffering. Children in particular appear to be vulnerable as regards dealing with fear from life-threatening events. Although most children and adolescents do not develop psychiatric conditions as a result of their exposure to danger, many do experience levels of distress, subsiding naturally over time. The research presented here explores how children and adolescents deal with reactions of fear, and how protective factors are present in different cultural settings.
Methods: Three different cultural contexts and types of experienced life-threatening events were chosen: female genital cutting as experienced in Somalia and in The Gambia, being a child soldier in Northern Uganda and experiencing a massacre in Norway.
Discussion and Conclusions: Each of the three cultural contexts has, in its own unique way, influenced and shaped the expression of clinical symptoms and the course of the distress. Such meaning-making is embedded in the cultural belief-system, which provides a cognitive template for assigning meaning when a traumatic event has triggered reactions and a need for explanations. When reactions can be attributed, the cultural belief-system provides a behavioral template for the individual to take action and activate help-seeking behavior, and for society to activate support. This process leads to integration of the traumatic memories, and closure. The disruptive force of the life-threatening event is corrected as the individual returns to a state of a (new) normal. However, when the cultural meaning systems and support systems are distinctive rather than universal, support may become culturally encoded, with its supportive power being stronger within the given culture.
Has part(s)
Paper I: Schultz, J.-H. & Lien, I.-L. (2013). Meaning-making of female genital cutting: Children's perception and acquired knowledge of the ritual. International Journal of Women's Health, 5, 165–175. Also available at https://doi.org/10.2147/IJWH.S40447.
Paper II: Schultz, J.-H. & Lien, I.-L. (2014). Cultural protection against traumatic stress: traditional support of children exposed to the ritual of female genital cutting. International Journal of Women's Health, 6, 207–219. Also available at https://doi.org/10.2147/IJWH.S51988.
Paper III: Schultz, J.-H. & Weisæth, L. (2015). The power of rituals in dealing with traumatic stress symptoms: cleansing rituals for former child soldiers in Northern Uganda. Mental Health, Religion & Culture, 18(10), 822–837. Published version not available in Munin due to publisher's restrictions. Published version available at https://doi.org/10.1080/13674676.2015.1094780.
Paper IV: Schultz, J.-H. & Skarstein, D. (2020). I'm not as bright as I used to be: Pupils' meaning-making of reduced academic performance after trauma. International Journal of School & Educational Psychology. Also available in Munin at https://hdl.handle.net/10037/22340.
Publisher
UiT Norges arktiske universitet
UiT The Arctic University of Norway
Collections
Copyright 2021 The Author(s)
The following license file are associated with this item: