Activity related pain in patients with musculoskeletal disorders : an explorative study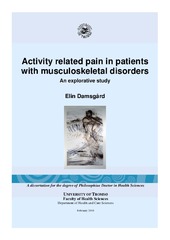 View/Open
Thesis introduction (PDF)
Damsgård E, Fors T, Anke A, Røe C: «The Tampa Scale of Kinesiophobia. A Rasch analysis of its properties in subjects with low back and more widespread pain», Journal of Rehabilitation Medicine 2007; (39): 672-678. Reprinted with permission. (http://dx.doi.org/10.1371/10.2340/16501977-0125) (PDF)
Damsgård E, Thrane G, Fors T, Anke A, Røe C: 'Activity related pain in patients with musculoskeletal disorders', Disability and Rehabilitation, 2010; 32(17): 1428–1437 (accepted manuscript version). Reprinted with permission (Informa Helthcare). Published version available at
http://dx.doi.org/10.3109/09638280903567877
(PDF)
Damsgård E, Dewar A, Røe C, Hamran T: «Staying active despite pain. Pain beliefs and experiences with activity related pain among patients with chronic musculoskeletal pain», submitted manuscript, later published in Scandinavian Journal of Caring Sciences (early view) (Wiley-Blackwell). Reprinted with permission. Published version available at
http://dx.doi.org/10.1111/j.1471-6712.2010.00798.x
(PDF)
Fors T, Damsgård E, Røe C, Anke A: «Readiness to adopt a self management approach to pain – are profiles of subscale scores on the Pain Stages of Pain Questionnaire useful?» submitted manuscript, later published in European Journal of Pain (in press) (Elsevier). Reprinted with permission. Published version available at
http://dx.doi.org/10.1016/j.ejpain.2010.04.007
(PDF)
Entire thesis in one comprehensive file (PDF)
Date
2010-02-26
Type
Doctoral thesis
Doktorgradsavhandling
Abstract
Chronic musculoskeletal pain is a common health problem and a major cause for disability pension in Norway. Increased pain and fear related to general activity and exercise may be a barrier to rehabilitation of patients with chronic muscular-skeletal disorders.
The aim of the present research was to investigate the occurrence of activity related pain, and to explore its association with fear, psychological distress, self efficacy and pain (duration and distribution). The second aim was to explore how these psychological aspects and activity related pain associates with individuals' readiness to adopt a self-management approach to pain, and how patients described and explained such pain experiences.
Data were collected by questionnaires and qualitative interviews with out-patients at a Physical Medicine clinic at the University Hospital of Northern Norway. Results showed that a majority of the participants experienced increased pain during activity. Pain related fear of movement/(re)injury was a unidimensional construct, which was statistically significantly associated with increased pain during activity, also among individuals without psychological distress. Participants with high levels of fear of movement/(re)injury and psychological distress and weak sense of (pain) self efficacy were more likely to report pain during activity. They were also less ready to take a self-management approach to pain. Activity related pain was described and explained as a complex experience with diverse meanings. Initial fear of pain was re-interpreted under the influence of time, learning and own experience. Participating in social life situations was an important incentive to stay active despite pain.
Publisher
Universitetet i Tromsø
University of Tromsø
Collections
Copyright 2010 The Author(s)
The following license file are associated with this item: