Storytelling – in our minds and in the classroom : a narratological and didactic analysis of Sherman Alexie's The Lone Ranger and Tonto fistfight in heaven (1993).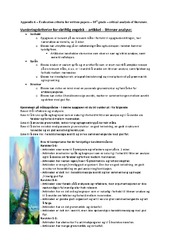 View/Open
Evaluation criteria for written papers.thesis.pdf (PDF)
Study questions for This Is What it Means to Say Phoenix Arizona.thesis (PDF)
Organization of This Is What it Means to Say Phoenix Arizona.thesis (PDF)
Presentation Sherman Alexie + This Is what it means to say Phoenix, Arizona.thesis (PDF)
Critical analysis of literature.thesis (PDF)
Teaching schema for teaching Sherman Alexie and This is what it means to say Phoenix, Arizona (PDF)
Masteroppgaven (PDF)
Date
2010-04-30
Type
Master thesis
Mastergradsoppgave
Abstract
Once upon a time, in a secondary world, long, or not so long ago… This might have been an appropriate introduction to this thesis, reflecting its main concern, namely storytelling. Atlantic Monthly Press claims on the cover of The Lone Ranger and Tonto Fistfight in Heaven (1993) that Sherman Alexie is a modern mythmaker, and I strongly agree; he is a storyteller with a firm belief in the power of storytelling. They furthermore write that what is explored in The Lone Ranger is the "distance between people: between Indians and whites, reservation Indians and urban Indians, men and women, and, most poetically, between modern Indians and the traditional figures from their past." This is a good description, in my opinion, of a collection that explores the nature of relationships between people and these characters' struggle to find an autonomous modern identity. My claim is that by studying literature and the structures in literature, new understandings of how we view life and ourselves may emerge and therefore literature needs to be given a significantly larger space in second language teaching than what has been the tradition in Norwegian schools. This thesis briefly presents the leading theories on the field of narratology, mostly those of Mieke Bal. I will explain how a hermeneutic approach will reveal how narratology can be didactic, and how information and knowledge can be presented as a narrative. This approach is chosen because of my desire to make possible a practical use of the findings in the analysis in the classroom. The main focus will be the complex narration and focalization and also embedded narratives. The themes of personal and collective crisis, the social situations for Native Americans, and the theme of storytelling and the didactical power of the storyteller's voice are brought forth by these narrative techniques. I will also present Sherman Alexie as a writer. Alexie is a writer who explores his life experience as a Native American and who has taken on a similar role of a storyteller and trickster employed in his fiction as a means to survive reservation life through exaggeration and humor, mirroring the Native American storytelling tradition. My aim is to have both a narratological and a pedagogical approach throughout the analysis and therefore, the connection between the two will always be implicit, much similar to Alexie's work. This thesis offers a narratological approach which connects narratives with reality through a coherent line called didactic. After a thorough analysis of seven of the short stories in The Lone Ranger, the findings will be placed in a teaching scheme to illustrate the practical purpose of the analysis.
Publisher
Universitetet i Tromsø
University of Tromsø
Collections
Copyright 2010 The Author(s)
The following license file are associated with this item: