What Makes us Act? On the Potentials of Exercises in Live Art Education and Performances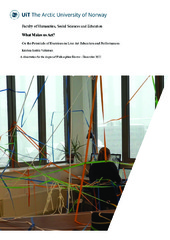 View/Open
Thesis introduction, Papers I - III (PDF)
Entire thesis in one comprehensive file (PDF)
File(s) with restricted access are under embargo until
2028-03-28
Date
2023-03-28
Type
Doctoral thesis
Doktorgradsavhandling
Abstract
This thesis is focusing on the exercise as an event in live art, participatory art and live art education. The thesis looks at the potential of exercises to facilitate for an inclusive space and the unknown future. The thesis consists of four peer-reviewed published articles and a summary article ("kappe" in Norwegian). The studies are practice-led research, using a diffractive analysis, based on the authors performances, live installations, workshops and teaching within live art. This thesis, as well as the artistic practice, is interdisciplinary. It lies at the intersections between artistic practice and research, performance studies, art pedagogy and post qualitative inquiry, drawing from a theoretical framework of posthumanism and new materialism, more specifically agential realism. The special interest here is in what way exercises can be active agents and operate as part of a complex landscape in intra-action with the surroundings to initiate action, meanings, knowledge and questioning. The thesis shows how the material-discursive exercises are performative agents that are in intra-action with the environment in multiple ways, and that what an exercise can be is manifold. The different studies emphasise performative agents, such as place/site, audience, performer, embodiment, formulation, materiality/performance objects, time, social media, multiplicity and affect. By being aware of the complex process regarding how the entities are organised, how the exercises are mediated and how they might intra-act, it is possible to accommodate an event, which can lead to a space for participation, inclusion, diversity, and unpredictability. The exercises have potentials for imagining and creating new realities and can contribute to the continuous development of live art and its pedagogy. Keywords: intra-action, exercises, performance art, live art, pedagogy, participation, artistic research, future practice, unpredictability
Has part(s)
Paper I: Junttila, K. (2021). On the Potential of Exercises in Live Art Pedagogy. RUUKKU Studies in Artistic Research, 17 "Everyday Utopias". Only available online at https://doi.org/10.22501/ruu, direct link to issue 17 at http://ruukku-journal.fi/en/issues/17. Direct link to the exposition at https://www.researchcatalogue.net/view/722219/808598.
Paper II: Valkoinen, K.J. (2021). How exercises matter as a dramaturgical approach in performance art education. Journal for Research in Arts and Sports Education, 5(2). Also available in Munin at https://hdl.handle.net/10037/23089.
Paper III: Junttila, K. (2020). A performance as an exercise in initiating a zone of potential. And an exercise in not quitting. Tape yourself to a green chair. Nordic Journal of Art and Research, 9(1). Also available in Munin at https://hdl.handle.net/10037/21281.
Paper IV: Jaakonaho, L. & Junttila, K. (2019). Exploring (Dis)ability: Towards Affirmative Spaces in and through Arts Pedagogy. In Østern, A. & Knudsen, K.N. (Eds.), Performative Approaches in Arts Education: Artful Teaching, Learning and Research (pp 25-37). Routledge. Published version not available in Munin due to publisher's restrictions. Published version available at http://dx.doi.org/10.4324/9780429444159-3.
Publisher
UiT Norges arktiske universitet
UiT The Arctic University of Norway
Collections
Copyright 2023 The Author(s)
The following license file are associated with this item: