Dental composites - The effects of matrix composition, suboptimal light curing and water exposure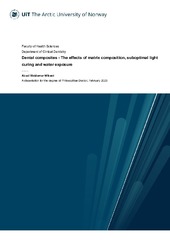 View/Open
Thesis introduction, Papers II & III (PDF)
Entire thesis in one comprehensive file (PDF)
File(s) with restricted access are under embargo until
2028-03-30
Date
2023-03-30
Type
Doctoral thesis
Doktorgradsavhandling
Abstract
In Scandinavian countries, resin-based composite materials have been used in restorative dentistry for over 30 years, replacing dental amalgams. Composite materials based on dimethacrylates provide better aesthetics and treatment options. However, according to in-vitro findings, dental composites can be affected by water, potentially reducing the longevity of dental restorations. The proper light-curing of these materials is essential for optimal mechanical and physical properties, and despite manufacturer instructions, the use of inadequate light-curing units has been documented. Therefore, this thesis aimed to examine the effects of suboptimal light-curing and monomer content on the water susceptibility of dental composites. According to the results presented in this thesis, the combination of suboptimal light-curing and water exposure decreased the dental composite's physical and mechanical properties and increased the degradation rate. Furthermore, the degree of conversion, a measure of curing, may not provide sufficient information on the state of dental composite curing. In conclusion, the study adds to the importance of sufficient light-curing of dental composites.
Has part(s)
Paper I: Cornelio, R.B., Wikant, A.W., Mjøsund, H., Kopperud, H.M., Haasum, J., Gedde, U.W. & Örtengren, U.T. (2014). The influence of bis-EMA vs bis GMA on the degree of conversion and water susceptibility of experimental composite materials. Acta Odontologica Scandinavica, 72(6), 440-447. Published version not available in Munin due to publisher's restrictions. Published version available at https://doi.org/10.3109/00016357.2013.856467.
Paper II: Wikant, A.W., Gedde, U.W., Hakeberg, M. & Örtengren, U.T. (2020). Suboptimal light curing and direct exposure to water of two contemporary composites: degree of conversion, sorption, solubility, and Knoop hardness. European Journal of Oral Science, 128(4), 345–353. Also available in Munin at https://hdl.handle.net/10037/20115.
Paper III: Wikant, A.W., Nilsson, F., Capezza, A., Hakeberg, M., Gedde, U.W. & Örtengren, U.T. Suboptimal light curing and water exposure: an in vitro investigation in mechanical aspects. (Submitted manuscript).
Publisher
UiT The Arctic University of Norway
UiT Norges arktiske universitet
Collections
Copyright 2023 The Author(s)
The following license file are associated with this item: