Liver regeneration : the impact of altered portal hemodynamics on gene expression and growth of the porcine liver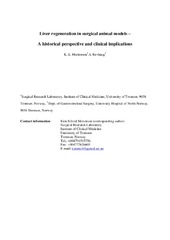 Åpne
Mortensen KE, Conley LN, Nygaard I, Sorenesen P, Mortensen E, Bendixen C, Revhaug A.: 'Increased sinusoidal flow is not the primary stimulus to liver regeneration', Comparative Hepatology 2010 Jan 20; 9:2, published Open Access with CC-license. (PDF)
Thesis introduction (PDF)
Dato
2010-12-10
Type
Doctoral thesis
Doktorgradsavhandling
Sammendrag
Previous research on liver regeneration has focused on the volume and composition of the blood perfusing the liver remnant and their relative importance in initiating the cascade of liver regeneration after partial hepatectomy. Newer studies around year 2000 indicated nitric oxide was of paramount importance due to the increased shear stress in liver sinusoids. On the basis of experimental liver surgery on pigs, this thesis suggests that it is the composition of the portal blood and not the flow itself which is the most important stimulus to initiate and uphold liver regeneration. The thesis also contains a paper outlining a historical review of liver regeneration research in mainly large animal models and a new statistical method to analyse real-time measurements of hemodynamic variables in time series.
Beskrivelse
Papers number 1 and 2 of the thesis are not available in Munin due to publisher's restrictions:
1. Mortensen KE, Godtliebsen F, Revhaug A.: 'Scale-space analysis of time series in circulatory research', American journal of physiology. Heart and circulatory physiology 2006. Dec; 291(6): H3012-22 (American Physiological Society). Available at
http://dx.doi.org/10.1152/ajpheart.00168.2006
2. Mortensen KE, Conley LN, Hedegaard J, Kalstad T, Sorensen P, Bendixen C, Revhaug A.: 'Regenerative response in the pig liver remnant varies with the degree of resection and rise in portal pressure', American journal of physiology. Gastrointestinal and liver physiology 2008 Mar; 294(3): G819-30 (American Physiological Society). Available at
http://dx.doi.org/10.1152/ajpgi.00179.2007
Forlag
Universitetet i Tromsø
University of Tromsø
Følgende lisensfil er knyttet til denne innførselen:
Relaterte innførsler
Viser innførsler relatert til tittel, forfatter og emneord.
Andersen, Sigve

;

Dønnem, Tom

;

Al-Shibli, Khalid Ibrahim

;

Al-Saad, Samer

;

Stenvold, Helge

;

Busund, Lill-Tove

;

Bremnes, Roy M.

(

Journal article; Tidsskriftartikkel; Peer reviewed

,

2011

)

Angiopoietins and their receptor Tie-2 are, in concert with VEGF-A, key mediators in angiogenesis. This study evaluates the prognostic impact of all known human angiopoietins (Ang-1, Ang-2 and Ang-4) and their receptor Tie-2, as well as their relation to the prognostic expression of VEGF-A. 335 unselected stage I-IIIA NSCLC-patients were included and tissue samples of respective tumor cells and ...

Gabrielsen, Endre

(

Master thesis; Mastergradsoppgave

,

2012-06-01

)

I 1983 oppdaget zur Hausen sammenhengen mellom Humant Papillomavirus (HPV) og livmorhalskreft. På denne tiden visste man ikke at det var HPV som var årsaken til at Helaceller kunne leve in vitro. Ny forskning relaterer HPV til en rekke andre cancertyper. En stor andel anal-, oropharyngeal-, penis-, vaginal-, og vulvacancer skyldes HPV. Det er også påvist HPV i tumorvev fra øsofagus, larynx, lunge, ...

Hoem, Gry

(

Master thesis; Mastergradsoppgave

,

2012-06

)

Fragile X syndrome (FXS) is caused by an expanded CGG repeat (>200 repeats) in the 5' un-translated portion of the fragile mental retardation 1 gene (FMR1) leading to deficiency or absence of the FMR1 protein (FMRP). FMRP is an RNA carrier protein that controls the translation of a number of other genes that regulate synaptic development and plasticity. Autism occurs in approximately 30% of FXS ...