Prevention of Fetal/Neonatal Alloimmune Thrombocytopenia (FNAIT) by prophylactic monoclonal antibodies. In vitro and preclinical evaluation of HPA-1a-specific antibodies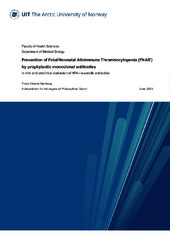 View/Open
Thesis introduction, Paper I & Supplementary review paper (PDF)
Entire thesis in one comprehensive file (PDF)
File(s) with restricted access are under embargo until
2025-10-19
Date
2023-10-19
Type
Doctoral thesis
Doktorgradsavhandling
Abstract
The focus of this thesis is the condition fetal/neonatal alloimmune thrombocytopenia (FNAIT) where maternal alloantibodies toward paternally inherited human platelet antigens (HPAs) cause depletion of fetal platelets. Clinical outcomes are heterogenous and can be asymptomatic, mild or severe bleedings, where intracranial hemorrhage (ICH) is the feared outcome as it may lead to lifelong disabilities or stillbirth. In Whites, alloantibodies toward HPA-1a are most common, and at the time, there are no available prevention or treatment for FNAIT. This thesis focused on the human HPA-1a-specific monoclonal antibody (mAb) 26.4 which was assessed for its potential abilities as an antibody prophylaxis to prevent HPA-1a alloimmunization. In addition, a panel of mAb 26.4 were produced with modified Fc regions and characterized in vitro for properties relevant for antibody-mediated immune suppression (AMIS). Proof of concept was demonstrated by the wild-type mAb 26.4 as successful induction of AMIS was showed in a murine FNAIT model — with no FNAIT symptoms in subsequent pups. Further studies also showed that a novel isoform of the antibody, mAb 26.4.REW, designed with extended plasma half-life and more potent complement activation, could prevent antibody development in the murine FNAIT model in low doses. Even though most women are alloimmunized in connection with delivery, many develop antibodies already in the first pregnancy. Since HPA-1a is expressed by other fetal tissues and cells than platelets, care must be taken to introduce antenatal administration of a potential HPA-1a-specific antibody prophylaxis. In this current study, antibodies from Norwegian referred FNAIT cases from 2000 to 2022 with severe outcomes were assessed for different antibody subtypes using recombinant proteins. No significant reactivity was detected after αIIbβ3 absorption, highlighting the challenges in detecting other anti-HPA-1a antibody subtypes — in order to risk stratify pregnancies and provide appropriate follow-up and treatment.
Has part(s)
Paper I: Mørtberg, T.V., Zhi, H., Vidarsson, G., Foss, S., Lissenberg-Thunnissen, S., Wuhrer, M., … Ahlen, M.T. (2022). Prevention of Fetal/Neonatal Alloimmune Thrombocytopenia in Mice: Biochemical and Cell Biological Characterization of Isoforms of a Human Monoclonal Antibody. ImmunoHorizons, 6(1), 90-103. Also available in Munin at https://hdl.handle.net/10037/27698.
Paper II: Mørtberg, T.V., Foss, S., van Ligtenberg, L.M., Bertelsen, E.L., Ottersen, O., Vidarsson, G., … Ahlen, M.T. Preclinical evaluation of an HPA-1a-specific human mAb IgG1 modified for enhanced effector properties. (Manuscript).
Paper III: Mørtberg, T.V., Bertelsen, E.L., Tiller, H., Skogen, B., Stuge, T.B. & Ahlen, M.T. Exploring recombinant glycoproteins as reagents for anti-HPA-1a antibody subtype specificity in FNAIT. (Manuscript).
Supplementary review paper: Rasmussen, T.V. & Ahlen, M.T. (2020). Murine models for studying treatment, prevention and pathogenesis of FNAIT. Transfusion and Apheresis Science, 59(1), 102706. Also available in Munin at https://hdl.handle.net/10037/17911.
Publisher
UiT The Arctic University of Norway
UiT Norges arktiske universitet
Collections
Copyright 2023 The Author(s)
The following license file are associated with this item: