Factors behind high cardiovascular disease mortality in Northwest Russia. The Arkhangelsk study.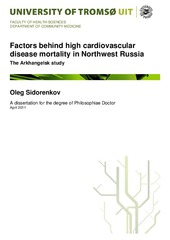 View/Open
Thesis introduction and appendixes (PDF)
Oleg Sidorenkov, Odd Nilssen, Tormod Brenn, Sergey Martiushov, Vadim L. Arkhipovsky and Andrej M Grjibovski: 'Prevalence of the metabolic syndrome and its components in Northwest Russia: the Arkhangelsk study',BMC Public Health (2010) Jan 19;10:23 (PDF)
Oleg Sidorenkov, Odd Nilssen and Andrej M Grjibovski: 'Metabolic syndrome in Russian adults: associated factors and mortality from cardiovascular diseases and all causes', BMC Public Health (2010) Sep 29;10:582 (PDF)
Entire thesis in one comprehensive file (PDF)
Date
2011-06-10
Type
Doctoral thesis
Doktorgradsavhandling
Abstract
Background Cardiovascular disease (CVD) mortality in Russia is among the highest in the world. CVD mortality rate among Russian middle-aged (30-59) men and women is more than ten times higher than in Norway. Comparative studies however show that abnormally high levels of the conventional (atherosclerotic) cardiovascular risk factors such as serum cholesterol, obesity, diabetes and hypertension are equally as frequent in Norway, Sweden and Finland as in Russia. Methods The study had two parts. The first part (articles I-III) was based on the data collected in the population-based cohort study in Arkhangelsk which started in 1999-2000. The population of 3705 men and women aged 18 years or more has been observed for a period of 10 years. The second part (article IV) was based on the autopsy reports for 1.618 men and women who died from cardiovascular disease at age 30-70 in the city of Arkhangelsk in 2008-09. For 1120 cases (69.2%) diagnosed by forensic pathologist the blood alcohol concentration was determined. Results Atherosclerotic risk factors were not predictive for the total CVD mortality. However, they were strongly associated with higher risk in a selected group of cardiovascular deaths, consisting of strokes and myocardial infarctions. Hazardous alcohol consumption was associated with a 5-fold risk of CVD death in women. Although no similar association was revealed in men (likely due to a considerable underreporting of alcohol consumption) data suggest an association of at least the same magnitude as in women. A high proportion of deaths due to alcohol-related heart disease (cardiomyopathies) was found among subjects who died from a CVD at the age of 30-50 years. At least 1/3 of men and 1/5 of women in the study population consumed alcohol in the hours before death. This proportion was very low in the group of stokes and myocardial infarctions. Alcoholic cardiomyopathy was responsible for a large proportion of CVD deaths under the age of 50 years. The proportion of men dying from a CVD with alcohol identified at the postmortem examination was about 50% higher than for women. Conclusions The results have shown that the CVD risk profile in Russia may be appreciably different to that in the US and Western Europe. Therefore the preventive measures directed against the high CVD rates should also be aimed at reducing hazardous drinking through judicious anti-alcohol policy.
Publisher
University of Tromsø
Series
ISM skriftserie, nr 117
Copyright 2011 The Author(s)
The following license file are associated with this item: