A community-based factorial trial on Alzheimer's disease. Effects of expectancy, recruitment methods, co-morbidity and drug use : The Dementia Study in Northern Norway.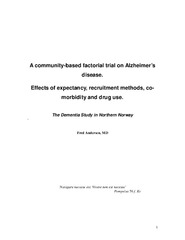 View/Open
Thesis introduction (PDF)
Fred Andersen, Torgeir A Engstad, Bjørn Straume, Matti Viitanen, Dag S Halvorsen, Samuel Hykkerud and Kjell Sjøbrend: 'Recruitment methods in Alzheimer's disease research: general practice versus population based screening by mail',BMC Medical Research Methodology (2010) 10:35 (PDF)
Fred Andersen, Bjørn Straume, Matti Viitanen, Dager Seeger Halvorsen, Torgeir Engstad: 'Co-morbidity and drug treatment in Alzheimer's disease. A cross sectional study of participants in The Dementia Study in Northern Norway',BMC Geriatrics (2011) 11:58 (PDF)
Date
2011-10-21
Type
Doctoral thesis
Doktorgradsavhandling
Abstract
Ni kommuner deltok i studien. I fem av kommunene fikk deltakerne med Alzheimers sykdom (AS) systematisk stimulering (n=103), i de resterende fire vanlig pleie og omsorg (n=84). Alle inkluderte ble randomisert dobbelt blindt til donepezil eller placebo, og fulgt med tre kognitive tester (MMSE, Klokketest og ADAS-Cog) hver fjerde måned i ett år. To testteknikere testet deltakerne på deres hjemsteder. Resultatene viser at deltakere behandlet med systematisk stimulering bevarte sine kognitive prestasjoner gjennom ett år. Det samme gjorde også de deltakerne som fikk vanlig pleie og omsorg. Ingen signifikant forskjeller i testresultat ble påvist i oppfølgingsperioden, verken mellom hoved- eller subgrupper. Også deltakere med alvorligere grad av Alzheimers sykdom ved inklusjon bevarte kognitivt funksjonsnivå i ett år. Donepezil hadde ingen tilleggseffekt, unntatt flere bivirkninger enn placebo. Deltakere med AS rekruttert ved screening var yngre, oftere menn og gjorde det bedre på kognitive tester enn deltakere rekruttert gjennom klinisk praksis. Deltakere med AS brukte flere medikamenter enn deltakere uten AS, uten signifikante forskjeller i sykelighet.
Description
Paper 3 of this thesis is not available in Munin:
3. Fred Andersen, Dag S. Halvorsen, Bjørn Straume, Matti Viitanen, Tom Wilsgaard and Torgeir A Engstad: 'The effect of stimulation therapy and donepezil on cognitive function in Alzheimer's disease. A community based RCT with a two-by-two factorial design' (submitted to Journal of the American Geriatrics Society)
Publisher
University of Tromsø
Universitetet i Tromsø
Series
ISM skriftserie, nr 121
Collections
Copyright 2011 The Author(s)
The following license file are associated with this item: