The role of aktionsart in deverbal nouns: State nominalizations across languages
DOI
doi: 10.1017/S0022226711000351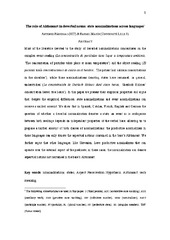 Dato
2012
Type
Journal article
Tidsskriftartikkel
Peer reviewed
Sammendrag
Most of the literature devoted to the study of deverbal nominalizations concentrates on the complex event reading (La concentración de partículas tiene lugar a temperatura ambiente, 'The concentration of particles takes place at room temperature') and the object reading (El paciente tenía concentraciones de calcio en el hombro, 'The patient had calcium concentrations in the shoulder'), while those nominalizations denoting states have remained, in general, understudied (La concentración de Sherlock Holmes duró cinco horas, 'Sherlock Holmes' concentration lasted five hours'). In this paper we present their empirical properties and argue that, despite the empirical differences, state nominalizations and event nominalizations can receive a unified account. We show that in Spanish, Catalan, French, English and German the question of whether a deverbal nominalization denotes a state, an event or is ambiguous between both readings depends on independent properties of the verbal base, allowing us to propose a unified account of both classes of nominalizations: the productive nominalizers in these languages can only denote the aspectual notions contained in the base's Aktionsart. We further argue that other languages, like Slovenian, have productive nominalizers that can operate over the external aspect of the predicate; in these cases, the nominalization can denote aspectual notions not contained in the base's Aktionsart.
Forlag
Cambridge University Press
Sitering
Journal of Linguistics 48(2012) nr. 1 s. 35-70
Følgende lisensfil er knyttet til denne innførselen:
Relaterte innførsler
Viser innførsler relatert til tittel, forfatter og emneord.
Svenonius, Peter

(

Journal article; Tidsskriftartikkel; Peer reviewed

,

2003

)

All Germanic languages make extensive use of verb-particle combinations (known as separable-prefix verbs in the OV languages). I show some basic differences here distinguishing the Scandinavian type from the OV West Germanic languages, with English superficially patterning with Scandinavian but actually manifesting a distinct type. Specifically, I argue that the P projection is split into p and P ...

Johansen, Åse Mette

;

Bull, Tove

(

Journal article; Tidsskriftartikkel; Peer reviewed

,

2012

)

I denne artikkelen analyserer vi det semiotiske landskapet som famnar om og er ein del av staden Universitetet i Tromsø (UiT), inkludert Universitetssykehuset Nord-Norge (UNN). Analysen bygger på eit todelt datamateriale som om­fattar fotografi frå universitets­området i tillegg til relevante dokument om språk­lovgjeving og andre offisielle vedtak om språkbruk. Dei aktuelle språka er norsk (bokmål ...

Janda, Laura Alexis

(

Journal article; Tidsskriftartikkel; Peer reviewed

,

2010

)