Core genome conservation of Staphylococcus haemolyticus limits sequence based population structure analysis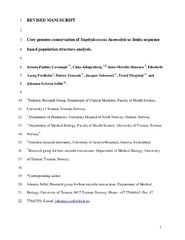 Dato
2012
Type
Journal article
Tidsskriftartikkel
Peer reviewed
Sammendrag
The notoriously multi-resistant Staphylococcus haemolyticus is an emerging pathogen causing serious infections in immunocompromised patients. Defining the population structure is important to detect outbreaks and spread of antimicrobial resistant clones. Currently, the standard typing technique is pulsed-field gel electrophoresis (PFGE). In this study we describe novel molecular typing schemes for S. haemolyticus using multi locus sequence typing (MLST) and multi locus variable number of tandem repeats (VNTR) analysis. Seven housekeeping genes (MLST) and five VNTR loci (MLVF) were selected for the novel typing schemes. A panel of 45 human and veterinary S. haemolyticus isolates was investigated. The collection had diverse PFGE patterns (38 PFGE types) and was sampled over a 20 year-period from eight countries. MLST resolved 17 sequence types (Simpsons index of diversity [SID] = 0.877) and MLVF resolved 14 repeat types (SID = 0.831). We found a low sequence diversity. Phylogenetic analysis clustered the isolates in three (MLST) and one (MLVF) clonal complexes, respectively. Taken together, neither the MLST nor the MLVF scheme was suitable to resolve the population structure of this S. haemolyticus collection. Future MLVF and MLST schemes will benefit from addition of more variable core genome sequences identified by comparing different fully sequenced S. haemolyticus genomes.
Sitering
Journal of Microbiological Methods 89(2012) nr. 3 s. 159-166
Følgende lisensfil er knyttet til denne innførselen:
Relaterte innførsler
Viser innførsler relatert til tittel, forfatter og emneord.
Andersen, Sigve

;

Dønnem, Tom

;

Al-Shibli, Khalid Ibrahim

;

Al-Saad, Samer

;

Stenvold, Helge

;

Busund, Lill-Tove

;

Bremnes, Roy M.

(

Journal article; Tidsskriftartikkel; Peer reviewed

,

2011

)

Angiopoietins and their receptor Tie-2 are, in concert with VEGF-A, key mediators in angiogenesis. This study evaluates the prognostic impact of all known human angiopoietins (Ang-1, Ang-2 and Ang-4) and their receptor Tie-2, as well as their relation to the prognostic expression of VEGF-A. 335 unselected stage I-IIIA NSCLC-patients were included and tissue samples of respective tumor cells and ...

Gabrielsen, Endre

(

Master thesis; Mastergradsoppgave

,

2012-06-01

)

I 1983 oppdaget zur Hausen sammenhengen mellom Humant Papillomavirus (HPV) og livmorhalskreft. På denne tiden visste man ikke at det var HPV som var årsaken til at Helaceller kunne leve in vitro. Ny forskning relaterer HPV til en rekke andre cancertyper. En stor andel anal-, oropharyngeal-, penis-, vaginal-, og vulvacancer skyldes HPV. Det er også påvist HPV i tumorvev fra øsofagus, larynx, lunge, ...

Hoem, Gry

(

Master thesis; Mastergradsoppgave

,

2012-06

)

Fragile X syndrome (FXS) is caused by an expanded CGG repeat (>200 repeats) in the 5' un-translated portion of the fragile mental retardation 1 gene (FMR1) leading to deficiency or absence of the FMR1 protein (FMRP). FMRP is an RNA carrier protein that controls the translation of a number of other genes that regulate synaptic development and plasticity. Autism occurs in approximately 30% of FXS ...