Nutrients and toxic elements in semidomesticated reindeer in Norway : nutritional and Food Safety Aspects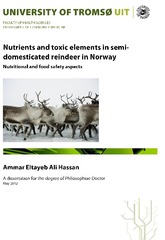 View/Open
Thesis introduction (PDF)
Ammar Ali Hassan, Torkjel M. Sandanger and Magritt Brustad: 'Level of selected nutrients in meat, liver, tallow and bone marrow from semidomesticated reindeer (Rangifer t. tarandus L.)', International Journal of Circumpolar Health (2012), 71:17997. (PDF)
Ammar Ali Hassan, Charlotta Rylander, Magritt Brustad and Torkjel M. Sandanger: 'Level of selected toxic elements in meat, liver, tallow and bone marrow of young semi-domesticated reindeer (Rangifer tarandus tarandus L.) from northern Norway', International Journal of Circumpolar Health (2012), 71:18187 (PDF)
Ammar Ali Hassan, Magritt Brustad and Torkjel M. Sandanger: 'Concentrations and geographical variations of selected toxic elements in meat from semi-domesticated reindeer (Rangifer tarandus tarandus L.) in mid- and northern Norway: Evaluation of risk assessment', International Journal of Environmental Research and Public Health (2012), 9:1699-1714. (PDF)
Full thesis with papers (PDF)
Date
2012-09-28
Type
Doctoral thesis
Doktorgradsavhandling
Abstract
Reinsdyr (Rangifer tarandus tarandus L.) er en viktig del av samisk kultur og en viktig bestanddel av samisk tradisjonell kost. Data på rein som næringsmiddel for mennesker har vært mangelfulle i forhold andre husdyr. Hovedmålet med denne avhandlingen var å øke kunnskapen om reinsdyr som matvare for mennesker, for å studere konsentrasjoner av fettsyrer, lipider, vitaminer, essensielle elementer og tungmetaller i kjøtt, lever, talg og benmarg fra rein i relasjon til anbefalt inntak. Vi har studert forskjeller mellom konsentrasjonene i kjøtt og de andre spiselige vev, samt effekter av geografisk variasjon og dyretetthet på disse konsentrasjonene. Denne avhandlingen er basert på prøver fra 131 rein fra 14 beitedistrikter fordelt på 4 fylker (Finnmark, Troms, Nordland og Sør-Trøndelag) i Midt- og Nord-Norge. Reinkjøtt inneholder høyere vitamin B12, jern, sink og selen konsentrasjoner i forhold til norsk biff, lam, sau, svin og kylling kjøtt. Reinkjøtt er magert, men en god kilde til docosapentaenoic syre (DPA) og α-linolensyre (ALA). Konsentrasjoner av DPA og ALA i reinkjøtt er sammenlignbare med det som er rapportert i krabbe, scampi, blåskjell, østers og DPA i torsk. I tillegg, inneholder en porsjon reinlever konsentrasjoner av vitaminer A, B9, B12, jern og selen som er høye nok til å dekke det daglige anbefalte inntaket (RDA). Forholdet ƩPUFA n-6/ ƩPUFA n-3 i kjøtt, talg og benmarg er innenfor RDA ratio på 3-9. Reintalg inneholder høye konsentrasjoner av vitamin B12, mens benmarg inneholder de høyeste konsentrasjoner av vitamin E og kalsium. Nivåene av de aller fleste næringsstoffene og tungmetaller i lever, talg og benmarg var betydelig høyre enn de som finnes i kjøtt. Konsentrasjoner av tungmetaller påvist i denne studien var generelt lave. De fleste vitaminkonsentrasjoner i leveren, talg og benmarg var signifikant positiv korrelert med konsentrasjonene i kjøttet. Positive korrelasjoner ble funnet mellom jern og kalsium, og vitamin B12 og sink. Nivåene i lever og kjøtt av både kadmium og arsen var positivt korrelert. Geografiske forskjeller i næringsstoffer og tungmetallkonsentrasjoner mellom enkelte beitedistrikter ble funnet. Vitamin E, selen, arsen og kadmium hadde størst geografiske forskjeller. Ingen klar geografisk trend ble observert, bortsett fra øst-vest gradient for arsen, med de høyeste konsentrasjonene målt i øst (nær den russiske grensen). Beitedistrikter med lav dyretetthet hadde i gjennomsnitt høyere selen enn de med middels og høy tetthet. Funnene fra denne studien tilsier at rein (kjøtt, lever, talg og benmarg) kan bidra betydelig til å få dekket anbefalte næringsstoffinntak for konsumentene. Videre, er konsum av kjøtt, lever, talg og benmarg fra rein ikke forbundet med noen helserisiko for forbrukerne i forhold til risiko for høyt inntak av tungmetaller. De geografiske forskjellene avdekket i denne studien var ikke store, og vil mest sannsynlig ikke ha noen innvirkning for forbrukerne.
Boazu (Rangifer tarandus tarandus L.) lea deaŧalaš oassi sámi kultuvrras ja maiddái deaŧalaš sámi árbevirolaš biebmodoalus. Leat leamaš unnán dáhtát ja dieđut das makkár mearkkašupmin bohccos lea leamaš olbmuid biebmodoalus dan ektui go leat dieđut šibihiid birra. Váldoulbmil dáinna dutkosiin lea háhkat eambbo dieđuid das makkár mearkkašupmi bohccos lea leamaš olbmo borramuššan, ja guorahallat buoidesuvrriid, lipiidaid, vitamiinnaid, deaŧalaš ávdnasiid ja lossametállaid čoahkkádusa bohccobierggus, vuoivasis, buoiddis ja ađđamiin, daid meriid ektui mat leat ávžžuhuvvon leat borramušain. Mii leat guorahallan čoahkkádusaid erohusaid bierggus ja eará borahahtti osiin, ja máid geográfalaš variašuvdna ja boazolohku mearkkaša dáid čoahkkádusaide. Dutkkus lea iskosiid vuođul 131 bohccos 14 orohagas 4 fylkkas Gaska- ja Davvi-Norggas (Finnmárkkus, Romssas, Nordlánddas ja Lulli-Trøndelágas). Bohccobierggus lea eambbo vitamiidna B2, ruovdi, sink ja selen go Norgga oame-, lábbá-, sávzza-, spiinni- ja vuonccáčivgabierggus. Bohccobiergu lea guoirras ja das lea valjit docosapentaenoic suvri (DPA) og α-linolensuvri (ALA). DPA ja ALA mearit bohccobierggus leat seamma dásis go mii lea gávnnahuvvon reabbáin, alitskálžžuin, oistariin ja DPA mearri seamma dásis go dorskis. Dasa lassin leat ovtta borranmeari bohccovuoivasis vitamiinnaid A, B9, B12, ruovddi ja selen čoahkkádusat mat leat doarvái gokčat ávžžuhuvvon beaivemeari (RDA). ƩPUFA n-6/ ƩPUFA n-3 gorri bierggus, buoiddis ja ađđamiin lea siskkobealde RDAratio, mii lea 3-9. Bohcco buoiddis lea alla mearit vitamiidna B12, ja ađđamis ges leat alimus mearit vitamiidna E ja kalsium. Eanas biepmusávdnasiid ja lossametállaid čoahkkádus vuoivasis, buoiddis ja ađđamiin lei mearkkašahtti alit go dat mii bierggus gávdnui. Lossametállaid čoahkkádusat dán guorahallamis ledje oppalaččat unnit. Eanas vitamiidnačoahkkádusat vuoivasis, buoiddis ja ađđamiin ledje signifikánta positiivat korrelerejuvvon čoahkkádusaiguin bierggus. Positiiva korrelašuvnnat gávdnojedje ruovddi ja kalsium gaskka, ja vitamiidna B12 ja sink gaskka. Sihke kadmium ja arsen čoahkkádusaid dásit vuoivasis ja bierggus ledje positiiva korrelerejuvvon. Soames orohagaid gaskka gávdnojedje geográfalaš erohusat biepmusávdnasiid ja lossametállaid čoahkkádusain. Vitamiidna E, selen, arsen ja kadmium dáfus ledje stuorimus geográfalaš erohusat. Ii fuomášuvvon čielga geográfalaš erohus, earret nuorta-oarje gradieanta arsena dáfus, mas stuorimus čoahkkádusat gávdnojedje nuortan (Ruoššaráji lahka). Orohagain gos lea unnit boazolohku eatnamiid ektui, lei gaskamearálaččat alit selen-dássi go doppe gos ledje eambbo dahje ollu bohccot eananviidodaga ektui. Gávdnosat dán guorahallamis čájehit ahte boazu sáhttá mearkkašahtti láhkái leat mielde deavdime ávžžuhuvvon meari biepmusávdnasiin maid olmmoš dárbbaša. Viidáseappot, de ii leat bohccobierggu, -vuoivasa, -buoiddi ja -ađđama borramis makkárge dearvvašvuođavahát olbmuide, ii ge riska ahte dain leat menddo ollu lossametállat. Geográfalaš erohusat maid dán guorahallamis gávnnaimet, eai leat stuorrát, ja dain ii dáidde leat makkárge mearkkašupmi geavaheddjiide.
Semi-domesticated reindeer (Rangifer tarandus tarandus L.) is an important part of the Sami culture and a main constituent of Sami traditional diet. Limited data are available on reindeer as a human foodstuff compared to domestic animals. The main objective of this thesis was to increase knowledge on reindeer as human foodstuff. In details, to study concentration of specific fatty acids, total lipids, vitamins, essential and toxic elements in meat, liver, tallow and bone marrow from semi-domesticated reindeer and to study this in relation to recommended dietary allowances (RDA) or maximum levels (ML) and provisional tolerable weekly/monthly intake limits (PTWI/PTMI). Differences between concentrations in meat and the other edible tissues from reindeer, as well as effects of geographical variation and animal population density on these concentrations were studied. This thesis is based on samples from 131 semi-domesticated reindeer originating from 14 districts distributed across four counties (Finnmark, Troms, Nordland and Sør-Trøndelag) in the mid- and northern Norway. We have found that semi-domesticated reindeer meat contains higher vitamin B12, iron, zinc and selenium concentrations when compared to Norwegian beef, lamb, mutton, pork and chicken meat. Reindeer meat is lean, but a good source of docosapentaenoic acid (DPA) and α-linolenic acid (ALA). Concentrations of DPA and ALA in reindeer meat are comparable to those formerly reported in crab, scampi, mussels, oysters and DPA in code. In addition, reindeer liver contains concentrations of vitamins A, B9, B12, iron and selenium that are high enough to cover the recommended dietary allowance (RDA). The ratios of ΣPUFA n-6/ΣPUFA n-3 in meat, tallow and bone marrow are within the RDA ratios of 3-9. The tallow contains a high concentration of vitamin B12, while bone marrow contains the highest concentrations of vitamin E and calcium. Further, this study has shown that the vast majority of nutrient and toxic element concentrations in reindeer liver, tallow and bone marrow were significantly higher than those found in meat. Concentrations of the toxic elements detected in this study were generally low and below the provisional tolerable weekly/monthly intake limits. Most vitamin concentrations in liver, tallow and bone marrow were significantly positive correlated with the concentrations in meat. Positive correlations were revealed between iron and calcium, and vitamin B12 and zinc. Cadmium and arsenic were the only toxic elements positively correlated between liver and meat. Geographical variations in nutrients and toxic element concentrations between some districts were revealed, with vitamin E, selenium, arsenic and cadmium demonstrating the largest geographical differences. No clear geographical trend was observed except for the east-west gradient for arsenic, with the highest concentrations measured in the east (near the Russian border). Districts with low animal population density had on average higher selenium than those with medium and high population densities. The measured concentrations of the studied nutrients demonstrate that reindeer intake (meat, liver, tallow and bone marrow) could contribute significantly to the recommended dietary intakes set for consumers. Furthermore, the consumption of meat, liver, tallow and bone marrow from reindeer is not associated with any health risk for consumers when toxic elements are the issue of concern. The geographical differences revealed in this study were not large and will most likely have no impact for consumers.
Publisher
University of Tromsø
Universitetet i Tromsø
Series
ISM skriftserie, nr 129
Copyright 2012 The Author(s)
The following license file are associated with this item: