Institutional quality and catch performance of fishing nations
DOI
doi: 10.1016/j.marpol.2012.06.002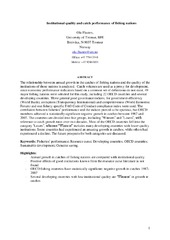 Date
2012
Type
Journal article
Tidsskriftartikkel
Peer reviewed
Abstract
The relationship between annual growth in the catches of fishing nations and the quality of the institutions of those nations is analyzed. Catch volumes are used as a proxy for development, since economic performance indicators based on a common set of definitions do not exist. 49 major fishing nations were selected for this study, including 22 OECD countries and several developing countries. Three general good governance indices, for government-efficiency (World Bank), corruption (Transparency International) and competitiveness (World Economic Forum) and one fishery specific FAO Code of Conduct compliance index were used. The correlation between fisheries' performance and the indices proved to be spurious, but OECD members achieved a statistically significant negative growth in catches between 1987 and 2007. The countries are divided into five groups, including 'Winners' and 'Losers', with reference to catch growth rates over two decades. Most of the OECD countries fell into the category 'Losers', whereas "Winners" includes many developing countries with lower quality institutions. Some countries had experienced an amazing growth in catches, while others had experienced a decline. The future prospects for both categories are discussed.
Publisher
Elsevier Science
Citation
Marine Policy (2012), Online before print
The following license file are associated with this item:
Related items
Showing items related by title, author, creator and subject.
Attah, Ambrose Ojadale

(

Master thesis; Mastergradsoppgave

,

2017-11-02

)

Nigeria is witnessing continuing advocacy and increase in number of individuals yearning for computerization of health information and healthcare processes. However, little is known about the opinions of the diverse healthcare providers who would ensure the successful implementation and meaningful use of health information technology in the country (Adeleke, Erinle et al. 2015). This study explores ...

Pedersen, Aleksander

(

Doctoral thesis; Doktorgradsavhandling

,

2020-10-20

)

In applications for technical problems, Geometric modeling and sensor technology are key in both scientific and industrial development. Simulations and visualization techniques are the next step after defining geometry models and data types. This thesis attempts to combine different aspects of geometric modeling and sensor technology as well as to facilitate simulation and visualization. It includes ...

Viken Valvåg, Steffen

(

Doctoral thesis; Doktorgradsavhandling

,

2012-01-30

)

MapReduce has become a widely employed programming model for large-scale data-intensive computations. Traditional MapReduce engines employ dynamic routing of data as a core mechanism for fault tolerance and load balancing. An alternative mechanism is static routing, which reduces the need to store temporary copies of intermediate data, but requires a tighter coupling between the components for ...