Encountering Complexity. Hybrid Discourse and Individual Management of Multilingualism and Social Meaning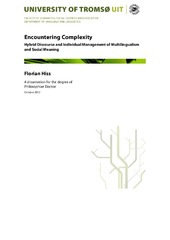 View/Open
Thesis introduction (PDF)
Hiss, Florian: 'Sosiale roller og lokale og globale interesser i vurderingen av språksituasjoner', Nordlyd (2012), vol. 39, no. 2:1-16 (PDF)
Hiss, Florian: 'Tromsø som samisk by? – Språkideologier og medienes rolle i språkdebatten', Nordlit (2012), vol. 30: Medier, kultur og samfunn, s 111-127 (PDF)
Date
2013-04-11
Type
Doctoral thesis
Doktorgradsavhandling
Abstract
The thesis encompasses six sociolinguistic and discourse analytic case studies on multilingualism and individual agency. Against the complexity of the current sociolinguistic situation of Sámi in Northern Norway, the studies shed light on the active agencies of various individual actors in different communicative settings. The case studies are concerned with three different sites: the global discourse of language endangerment in its encounter with the interests of local actors in the Sámi media; local informants' individual management of responsibilities and identities in the face of uncertainty and the risk of language loss; and the attitudinal positioning of various actors during the debate on the introduction of the administrative area for the Sámi language in Tromsø. All studies analyse individual strategies of meaning-making, positioning, and metalinguistic contextualization in discourse, with focus on identity, storytelling, stance-taking, and responsibility. In all cases, individual actors, in the roles of, e.g., journalists, experts, local informants, the researcher, and local community members participating in media debates, face a large contextual complexity. Presenting different linguistic strategies of individual self-organization vis-à-vis this sociolinguistic and contextual complexity, I argue that especially hybrid properties of discourse enable individual actors to manage for themselves the challenges and complexities they encounter in social contexts and with respect to their to their (Sámi, Norwegian, and other) language(s).
Description
Papers 1,3,4 and 5 of this thesis are not available in Munin:
1. Hiss, Florian: 'The Metaphors and Metafunctions of Endangerment Discourse' (manuscript).
3. Hiss, Florian: 'Managing Sociolinguistic Challenges: Storytelling about Language Loss and Continuity in the Case of Sámi', in Karin Jóhanna L. Knudsen, Hjalmar P. Petersen and Kári á Rógvi (eds). "4 or more languages for all: Language policy challenges for the future", p 36-54 Novus. (2012).
4. Hiss, Florian: 'Engagement in Sámi language revitalization: Responsibility management in a research interview' (manuscript).
5. Hiss, Florian: 'Tromsø as a "Sámi Town"? – Language ideologies, attitudes, and debates surrounding bilingual language policies', Language Policy (2012), October. Available at
http://dx.doi.org/10.1007/s10993-012-9254-7
Publisher
Universitetet i Tromsø
University of Tromsø
The following license file are associated with this item: