Public libraries: places creating social capital?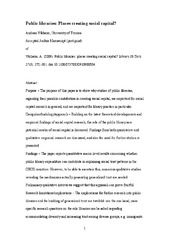 Date
2009
Type
Journal article
Tidsskriftartikkel
Peer reviewed
Abstract
Purpose – The purpose of this paper is to show why studies of public libraries, regarding their possible contribution in creating social capital, are important for social capital research in general, and are important for library practice in particular. Design/methodology/approach – Building on the latest theoretical developments and empirical findings of social capital research, the role of the public library as a potential creator of social capital is discussed. Findings from both quantitative and qualitative empirical research are discussed, and also the need for further studies is presented. Findings – The paper reports quantitative macro-level results concerning whether public library expenditure can contribute in explaining social trust patterns in the OECD countries. However, to be able to ascertain this, numerous qualitative studies revealing the mechanisms actually generating generalized trust are needed. Preliminary qualitative interviews suggest that this approach can prove fruitful. Research limitations/implications – The implications for further research into public libraries and the building of generalized trust are twofold: one the one hand, more specific research questions on the role libraries can be asked regarding accommodating diversity and increasing trust among diverse groups, e.g. immigrants. On the other hand, the suitability of the public library for investigating these questions makes the results relevant for social capital research in general. Practical implications – The library profession points to the importance of libraries for social capital and maintain that libraries have been overlooked in this matter. Strong sentiments like this should be ideal for implementation of research based library policies, strategies and activities for creating social capital. Originality/value – What is new in this research is that studies of public libraries may contribute in resolving the impasse within contemporary social capital research where neither institutional nor societal perspectives seem to be able to verify how social capital is created. Keywords: Public libraries, Social capital Paper type: Research paper
Citation
Library hi tech 27(2009) nr. 3 s. 372-381
The following license file are associated with this item:
Related items
Showing items related by title, author, creator and subject.
Nikolaisen, Trygg Einar

(

Mastergradsoppgave; Master thesis

,

2018-05-15

)

Introduction: Liposomes as drug delivery systems has been widely studied as a way to solubilize poorly soluble drugs, reduce side effects of chemotherapeutics and increase circulation time in vivo. Since the first descriptions of liposomes over 60 years ago, they have shown tendencies to shrink and swell when the external environment of the liposomes is altered. This phenomenon has been studied in ...

Attah, Ambrose Ojadale

(

Master thesis; Mastergradsoppgave

,

2017-11-02

)

Nigeria is witnessing continuing advocacy and increase in number of individuals yearning for computerization of health information and healthcare processes. However, little is known about the opinions of the diverse healthcare providers who would ensure the successful implementation and meaningful use of health information technology in the country (Adeleke, Erinle et al. 2015). This study explores ...

Pedersen, Aleksander

(

Doctoral thesis; Doktorgradsavhandling

,

2020-10-20

)

In applications for technical problems, Geometric modeling and sensor technology are key in both scientific and industrial development. Simulations and visualization techniques are the next step after defining geometry models and data types. This thesis attempts to combine different aspects of geometric modeling and sensor technology as well as to facilitate simulation and visualization. It includes ...