The Role of the Societas Meteorologica Palatina (1781–1792) in the History of Auroral Research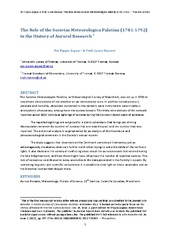 Date
2012
Type
Journal article
Tidsskriftartikkel
Peer reviewed
Abstract
The Societas Meteorologica Palatina, or Meteorological Society of Mannheim, was set up in 1781 to coordinate observations of the weather on an international scale. In addition to temperature, pressure and humidity, observers connected to the network were instructed to record various atmospheric phenomena, among these the aurora borealis. The 39 stations of the network reported about 1400 individual sightings of auroras during the Society's dozen years of existence. The reported sightings are subjected to a statistical analysis that brings out striking discrepancies between the number of auroras that one would expect and the number that was reported. The statistical analysis is supplemented by an analysis of the theoretical and phenomenological comments in the Society's annual reports. The study suggests that observers on the Continent considered themselves just as advantageously situated as observers further north when trying to solve the riddle of the northern lights. It also illustrates the variety of conflicting ideas about the aurora borealis that existed during the late Enlightenment, and how these might have influenced the number of reported auroras. This lack of consensus contributed to many anomalies in the data presented in the Society's reports. By combining linguistic and scientific competence it is possible to shed light on these anomalies and on the historical context that shaped them.
Citation
Acta Borealia 29(2012) nr. 2 s. 157-176
The following license file are associated with this item:
Related items
Showing items related by title, author, creator and subject.
Krogsæter, Tor-Ivar

(

Lecture; Forelesning

,

2016-06-19

)

Kolstad, Charlotte Renland

(

Master thesis; Mastergradsoppgave

,

2014-05-15

)

I 1994 ble rundt 800 000 mennesker drept i et lite sentralafrikansk land, størrelsen på landet kan sammenlignes med Troms fylke i Norge. Hendelsen er kjent som folkemordet i Rwanda. I senere tid har det blitt utgitt et relativt bredt spekter av litteratur på feltet, hvor forskere har hatt forskjellige ståsteder som har resultert i ulike synsvinklinger. Prosjektet tar for seg sentrale oppfatninger ...

Krogsæter, Tor-Ivar

(

Master thesis; Mastergradsoppgave

,

2015-11-27

)

Avhandlinga søker å finne svar på spørsmålet «Hvordan endret romernes syn på seksualitet seg i løpet av den tidlige keisertida, fra seinrepublikken til de første århundrene av prinsipatet?» ved å studere lovarbeid og litteratur i den aktuelle perioden og om vi kan se tendenser til endring i disse. Bakgrunnen for dette spørsmålet, ligger i keiser Augustus' morallover «lēx Iūlia dē marītandīs ōrdinibus» ...