Belief, truth, and the enigma of error.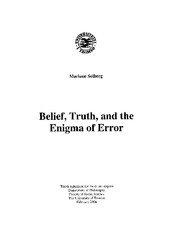 View/Open
Introduction and chapter 1 (PDF)
Chapter 2. This is a slightly reworked version of Solberg, M: Davidson and the Role of Error in Fossheim H., Larsen T. M. & Sageng J. R. (eds.) Non-conceptual aspects of experience, UNIPUB, Oslo 2003. Reproduced by permission. (PDF)
Chapter 3. This is the author's translation of Solberg, M: "Velvillighetsprinsippets epistemiske status", Norsk Filosofisk Tidsskrift, 2004 (1-2) pp. 61-76, Universitetsforlaget. Reproduced by permission. (PDF)
Chapters 4-6, Synthesis and References. (PDF)
Entire thesis in one comprehensive file (PDF)
Date
2006-10-13
Type
Doctoral thesis
Doktorgradsavhandling
Abstract
The thesis discusses problems related to the American Philosopher Donald Davidson's (1917-2003) views upon beliefs, truth and error. Underlying questions are; what are the basic conditions for knowledge? What are the prerequisites for understanding other human beings? What are the conditions for emergence of beliefs that can be true or false? The thesis focuses on the role that our inherited characteristics play in understanding other human beings, and these are seen in relation to the significance of our upbringing in a speech community. Davidson's approach takes its starting point in a thought experiment called radical interpretation. Radical interpretation is a situation where a person interprets another in order to find the meanings and beliefs of the other. The interpreter does not in advance know the other person's language and culture; hence the "radical". The idea is that what we can make out in such a situation tells us something about meaning and belief generally, and this will then also restrict and inform a theory of knowledge. The possibility of error is a premise for a theory of linguistically formed knowledge. The thesis inquires whether we within the Davidsonian model can give an account of error, and shows that the theory lacks resources towards an account where speaker and interpreter can go objectively wrong together. The analysis shows that this defect is due to a tension between the aim of reaching objective truth via social interaction and the fact that the idiolect is the only kind of language that the interpretational model can handle. On a metaphilosophical level the analysis of Davidson's theory is employed to test the potential of a naturalized philosophical account of intentionality.
Publisher
Universitetet i Tromsø
University of Tromsø
Collections
Copyright 2006 The Author(s)
The following license file are associated with this item: