Implementing interventions in adult mental health services to identify and support children of mentally ill parents.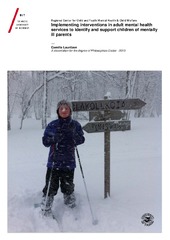 View/Open
Thesis introduction (PDF)
Reedtz, C., Lauritzen, C., & Van Doesum, K. T. M.: 'Evaluating workforce developments to support children of mentally ill parents: Implementing new interventions in the adult mental health care in Northern Norway', BMJ Open (2012), vol. 2:e000709. (PDF)
Date
2014-03-28
Type
Doctoral thesis
Doktorgradsavhandling
Abstract
This dissertation is a result of a large-scale longitudinal project (the BAP-study) where the overall aim was to monitor and evaluate the implementation of clinical change to identify and support children of mentally ill parents within the participating clinic. The design includes a pre-test, post-test and one-year follow-up. The first stage of the study involved assessment of the status quo in the clinic in terms of identification routines and current practice. This was done through web-based questionnaires to all staff and management personnel in the clinic (N = 219). The entire workforce at the participating clinic was then trained in the interventions Family Assessment and Child Talks. To assess whether or not the interventions had led to changes in clinical practice, a new survey was conducted at post-test (2013) (N = 185). The long-term implementation strategy of the BAP-study seems to have contributed to a slightly modified clinical practice in terms of increased identification of mentally ill patients and their children. In terms of support for the families affected by parental mental illness, the changes are not yet significant.
Description
Paper 3 of this thesis is not available in Munin:
3. Lauritzen, C., & Reedtz, C.: 'Support for children of mental health service users in Norway', Mental Health Practice (2013), vol. 16:12-18. Available at
http://dx.doi.org/10.7748/mhp2013.07.16.10.12.e875
Publisher
UiT The Arctic University of Norway
UiT Norges arktiske universitet
The following license file are associated with this item: