Bedre markedsadgang? Nye utfordringer, nye løsninger i handelspolitikken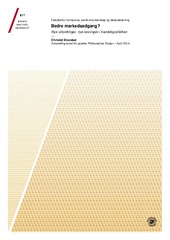 View/Open
Thesis introduction (PDF)
(Restricted, read only-version) Elvestad, Christel, & Veggeland, Frode: 'Using a Soft Mode of Governance to Facilitate Trade: Regulatory Cooperation between the EU and Canada'. In: Veggeland (Red.), Innovative Regulatory Approaches: Coping with Scandinavian and European Policies, 2010, New York: Nova Science Publishers. (PDF)
Date
2015-01-15
Type
Doctoral thesis
Doktorgradsavhandling
Abstract
The thesis «Better Market Access? New Challenges, New Trade Policy Instruments» addresses what conditions are critical for the ability of exporting countries to ensure market access for its products in foreign markets? The four qualitative studies of the thesis treat both tariff and non-tariff barriers to trade, and discuss the range of policy instruments available to reduce and remove trade barriers. The main findings of the thesis are that internal factors such as defensive trade interests and lacking national capacity can have negative effects on the ability of states to ensure and improve market access. Furthermore, asymmetrical power-dependence relations can put importing countries in a position to dictate market conditions, restrict and refuse market access. The man conclusion is nevertheless that exporting states can benefit from adapting more proactive policies and cooperating long term and more systematically with trading partner on different levels. In particular, the thesis emphasizes the value of soft/non-binding regulatory cooperation to prevent and reduce non-tariff barriers to trade.
Description
Papers 1, 3 and 4 of this thesis are not available in Munin:
1. Elvestad, Christel: 'Improving Market Access for Salmon through Free Trade Agreements: The Role of Interests and Institutional Frameworks'. Marine Policy, 2009, 33, 606-612. Available at
http://dx.doi.org/10.1016/j.marpol.2008.12.004
3. Elvestad, Christel, & Nilssen, Frode: 'Restricting Imports to the Russian Food Market: Simply an Act of Protectionism?'. Post-Communist Economies, 2010, 22(3), 267-282. Available at
http://dx.doi.org/10.1080/14631377.2010.498679
4. Elvestad, Christel. (2014): 'Food Safety Measures in International Seafood Trade: Capacity to Comply, Power to Influence?' (Manuscript).
Publisher
UiT Norges arktiske universitet
UiT The Arctic University of Norway
Collections
Copyright 2015 The Author(s)
The following license file are associated with this item: