Anti-human platelet antigen (HPA)-1a antibodies: For better or for worse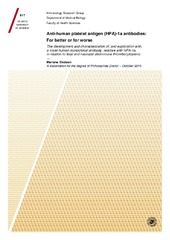 View/Open
Thesis introduction (PDF)
Eksteen M, Tiller H, Averina M, Heide G, Kjaer M, Ghevaert C, Michaelsen TE. Ihle O. Husebekk A. Skogen BR. Stuge TB.: 'Characterization of a human platelet antigen-1a-specific monoclonal antibody derived from a B cell from a woman alloimmunized in pregnancy',
Journal of Immunology, June 15, 2015, 194:5751-5760
(PDF)
Date
2015-12-11
Type
Doctoral thesis
Doktorgradsavhandling
Abstract
Albeit a rare pregnancy complication, fetal and neonatal alloimmune thrombocytopenia (FNAIT) due to anti-human platelet antigen (HPA)-1a antibodies carries a significant risk of intracranial bleeding in the fetus and newborn. Reduced birth weight is another possible complication of FNAIT. Currently, there is no specific treatment to prevent or treat FNAIT, neither exist screening programs identifying women at risk of having a baby affected by FNAIT. Prophylactic and therapeutic strategies have been proposed, and the debate on screening programs is intensifying in several countries. The potential of polyclonal anti-HPA-1a IgG to prevent HPA-1a immunization is currently being tested in clinical trials. In this study we have developed a human monoclonal antibody (mAb) highly specific for HPA-1a, named 26.4. By in vitro experimentation, we have shown that this mAb can potentially be developed into a drug to specifically prevent maternal immunization to HPA-1a by potentiating the removal of fetal platelets from maternal circulation prior the immunization takes place. We have also demonstrated that this mAb outcompetes maternal anti-HPA-1a antibodies for binding to the antigen, and therefore mAb 26.4 can also be developed into a drug to treat FNAIT, by protecting fetal platelets from potentially harmful maternal anti-HPA-1a antibodies in cases when the immunization has already occurred. We have also shown that this mAb can be used as a diagnostic reagent to identify women at risk of HPA-1a immunization, as well as a standard for quantitation of anti-HPA-1a antibodies. Using an in vitro model, we have found that anti-HPA-1a antibodies affect trophoblast functions crucial for placental development. The latter finding sheds light on one of the possible causes of the reduced birth weight in FNAIT-affected babies.
Description
Papers number II and III of this thesis are not available in Munin:
Paper II. A novel human monoclonal human platelet antigen (HPA)-1a-specific antibody can serve as a diagnostic reagent in fetal and neonatal alloimmune thrombocytopenia. Eksteen M, Kjaer M, Husebekk A, Skogen BR, Stuge TB. (Manuscript)
Paper III. Anti-human platelet antigen (HPA)-1a antibodies affect trophoblast functions crucial for placental development: A laboratory study using an in vitro model. Eksteen M, Heide G, Tiller H, Zhou Y, Hersoug Nedberg N, Martinez IZ, Husebekk A, Skogen BR, Stuge TB, Kjaer M. (Manuscript)
Publisher
UiT The Arctic University of Norway
UiT Norges arktiske universitet
Collections
Copyright 2015 The Author(s)
The following license file are associated with this item: