Implementation of the Ecosystem Approach to Fisheries in the North-East Atlantic. A case study of how the Joint Norwegian-Russian Fishery Commission has worked with the EAF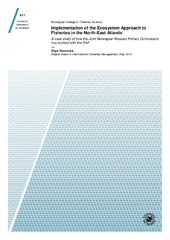 View/Open
Master thesis Olga Voronova . Sorry about the late hand in. Thank you for considering this (PDF)
Date
2015-08-15
Type
Master thesis
Mastergradsoppgave
Abstract
The Ecosystem Approach in Fisheries (the EAF) became a worldwide trend. More and more countries are adopting and developing this trend with different rate of success. There is a widespread agreement about the necessity of a new fisheries management strategy, which is taking into account food web linkages and human activity, which may affect sustainability of ecosystem. However FAO's framework on the EAF does not give precise instructions for implementation of the regime. Therefore, the main issue for fisheries managing authorities is to transfer the general guidelines into specific tools for managing resources, The North-East Atlantic always has been productive area, and well established management system. The Norwegian-Russian Commission has long-lasting history of successful cooperation. This case-study investigate, how it will function within ecosystem framework, and how implementation process changing well-established management framework.
Publisher
UiT The Arctic University of Norway
UiT Norges arktiske universitet
Collections
Copyright 2015 The Author(s)
The following license file are associated with this item:
Related items
Showing items related by title, author, creator and subject.
Dyspriani, Polite

(

Master thesis; Mastergradsoppgave

,

2007-05-29

)

Shrimp world production in the last few years has shown very high growth rates. It is marked by an increasing of production volume, and by shifting from capture to aquaculture fisheries within the production system. This has occurred mostly regarding to the brackish water pond. For some years, the government has had to face hard choices in order to ensure shrimp aquaculture developed sustainable. ...

Pettersen, Ingrid Marie

;

Aaknes, Vilde Synnøve

(

Master thesis; Mastergradsoppgave

,

2023-05-15

)

I dag er verdikjeden for fisk og skalldyr bygget opp rundt utnyttelse av et fåtall arter som kan fanges i store volum og med høy markedsverdi. Bruk av lite eller ikke utnyttede marine ressurser kan være en bærekraftig tilnærming for å innfri fremtidige krav og etterspørsel til fiskekonsum. Rødspette (Pleuronectes platessa) er den viktigste flatfisken i volum og verdi i europeiske fiskerier. Både ...

Nolde Nielsen, Kåre

(

Doctoral thesis; Doktorgradsavhandling

,

2008-11-21

)

What is the relationship between science and politics? What should it be? How are their respective roles conceived and acted out in practice? Should science and politics be clearly separated? How? Are there cases in which they can be usefully mixed? What cases are those, and are there some ways of mixing that are better than others? This project explores such questions by examining relationships ...