The role of inflammatory pathways in neuroblastoma tumorigenesis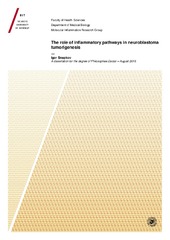 View/Open
Thesis introduction (PDF)
Paper I: Snapkov, I., Öqvist, C. O., Figenschau, Y., Kogner, Per, Johnsen, J. I., Sveinbjørnsson, B.: « The role of formyl peptide receptor 1 (FPR1) in neuroblastoma tumorigenesis." Also available in
BMC Cancer 2016, 16:490.
(PDF)
Øie, C. I., Snapkov, I., Elvevold, K., Sveinbjørnsson, B., Smedsrød, B.: "FITC Conjugation Markedly Enhances Hepatic Clearance of N-Formyl Peptides." Also available in
PLoS ONE 2016, 11(8).
(PDF)
Date
2016-09-23
Type
Doctoral thesis
Doktorgradsavhandling
Abstract
Neuroblastoma er en type nervecellekreft hos barn. Den har en svært kompleks biologisk heterogenisitet og er i noen tilfeller resistent mot cellegift. Den aggressive varianten av neuroblastoma er vanskelig å behandle, og dødeligheten er relativ høy. Det betyr at behovet for alternative behandlingsstrategier er stort. Gjennom økt biologisk forståelse kan man utvikle mer målrettede behandlinger som forhåpentligvis gir bedre behandlingsresultater og mindre bivirkninger. Inflammatoriske celler og betennelsesreaksjoner er en viktig bestandsdel i en kreftsvulst hvor de ofte bidrar til økt vekst og resistens mot terapi. I denne avhandlingen beskrives virkningen av 2 ulike inflammatoriske mediatorer som viser seg å fremme tumorvekst. I cellekulturer viser man at disse mediatorene, som begge kan frigjøres fra kreftcellene, stimulerte vekst og overlevelse av kreftcellene. I dyremodeller kunne man vise at ved å hemme effekten av de inflammatoriske mediatorene, ble veksten av kreftsvulsten betydelig redusert. Disse resultatene viser at substanser som demper spesifikke inflammatoriske rekasjoner i kreftsvulsten med hell kan brukes som tilleggsbehandling sammen med konvensjonell behandling for å potensiere behandlingens effekt. I den siste delen av avhandlingen har man ved hjelp av dyremodeller studert skjebnen til inflammatoriske mediatorer som produseres av kreftsvulster og leverens rolle ved å fjerne disse fra sirkulasjonen.
Description
Paper II of this thesis is not available in Munin.
Paper II: Tümmler, C., Snapkov, I. Moens, I., Kogner, P., Johnsen, J. I., Sveinbjørnsson, B.: «CMKLR1/chemerin axis in the neuroblastoma microenvironment.» (Manuscript).
Publisher
UiT The Arctic University of Norway
UiT Norges arktiske universitet
Collections
Copyright 2016 The Author(s)
The following license file are associated with this item: