Perceptions, Persuasion & Power. The textual shaping of Spitsbergen (Svalbard), 1895-1920: an international view.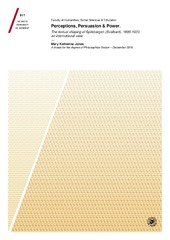 Date
2017-06-21
Type
Doctoral thesis
Doktorgradsavhandling
Abstract
Scientific texts relating to Spitsbergen (Svalbard) published between 1895 and 1920, during the final quarter-century before Norway obtained sovereignty of this Arctic archipelago, relate their authors' scientific findings, but in many instances their very existence, their language of publication, their author's nationality and their country of publication also serve to illustrate their historical and geopolitical significance, both as individual texts and as a cumulative literary canon. A published history of the region during this period, as well as the compilation of Spitsbergen bibliographies in Britain, Norway, Sweden and Russia, signifies its increasing status in international terms. A number of individuals, including British explorer Sir William Martin Conway, French geographical journal editor Charles Rabot and Norwegian geologist Adolf Hoel, embodied power, influence and control in their persuasive attempts – along with many other authors who constituted what has been coined the Spitsbergen Literature Lobby – to influence the outcome of the Spitsbergen Question, determining the region's future sovereignty in the aftermath of the Great War. Five thesis articles examine the textual shaping of Spitsbergen, both in terms of which texts were published and what the publications were intended to portray. This bibliometric approach to history has uncovered interesting patterns of publication previously unsuspected, but the potential also exists, now and in the future, to use this new historiographical approach as a means to (re)examine the historical, political and cultural perspectives of the region.
Description
The papers 1-4 of this thesis are not available in Munin.
Paper 1: Jones, M. K.: "European Perceptions of Spitsbergen, 1895-1900". Available in (eds.) Kruse, A., Graves, P.: Images and Imaginations: Perspectives on Britain and Scandinavia. Lockharton Press, Edinburgh 2007: 89-110. ISBN: 1874665028.
Paper 2: Jones, M. K.: "From explorer to expert: Sir William Martin Conway's 'delightful sense of something accomplished". Available in
Polar Record 2014, 50(3): 319-329.
Paper 3: Jones, M. K.: "Thematic and bibliometric analysis of articles about Spitsbergen (Svalbard) in science periodicals, 1905-1914". (Manuscript).
Paper 4: Jones, M. K.: "Charles Rabot's Arctic idée fixe: Spitsbergen coverage in La Géographie, 1900-1920". Available in
The Polar Journal 2012, 2(2):274-290.
Publisher
UiT Norges arktiske universitet
UiT The Arctic University of Norway
Collections
Copyright 2017 The Author(s)
The following license file are associated with this item: