Om idealer og realiteter i lærerutdanningers bruk av digital teknologi. En komparativ studie av lærerutdanninger i Norge og New Zealand.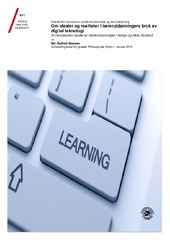 Åpne
Thesis introduction (PDF)
(PDF)
(PDF)
(PDF)
(PDF)
Entire thesis in one comprehensive file (PDF)
Dato
2019-05-02
Type
Doctoral thesis
Doktorgradsavhandling
Sammendrag
Compared to most other countries, Norway has been exposed to a stronger top-down implementation of information and communication technologies (ICT) in education. The pervasive change in the Norwegian school curriculum has consequently resulted in changes in Norwegian initial teacher education. Over 10 years have passed since Norwegian educational reforms mandated teachers' use of digital tools as a required basic skill in all subjects and at all levels of Norwegian schooling. However, government surveys show that there is still a significant gap between the aim of educational policies and what is actually practised in Norwegian teaching. This gap has often been attributed to deficiencies in practitioners' skills. This thesis aims to broaden the understanding of the established gap between policies regarding the use of digital technology and the actual use of digital technology in Norway. To understand this gap a comparative study between teacher education in Norway and teacher education in New Zealand is conducted. This is two countries with quite different approaches to implementing digital technology in education, and we found several interesting differences between the countries.
Har del(er)
Paper I: Madsen, S.S., Thorvaldsen, S. & Archard, S. (2018). Teacher educators' perceptions of working with digital technologies. Nordic Journal of Digital Literacy, 13(3), 177-196. Also available at https://hdl.handle.net/10037/15203.
Paper II: Madsen, S.S., Thorvaldsen, S. & Archard, S. (2018). How different national strategies of implementing digital technology can affect teacher educators. Nordic Journal of Digital Literacy, 13(4), 7-23. Also available at https://hdl.handle.net/10037/15204.
Paper III: Madsen, S.S. Understandings and attitudes regarding different curriculum defined views on learning and developing. A comparative study of attitudes and understandings among Norwegian and New Zealand teacher educators. (Submitted manuscript).
Paper IV: Revised version of Thorvaldsen, S. & Madsen, S.S. (2018). The interaction between teacher educators and their students on the use of educational technology: Similarities and differences of attitudes, skills, and practice across a generational change. The Online, Open and Flexible Higher Education Conference. Aarhus Universitet, Denmark. 10-12 October, 264-277. Also available at https://hdl.handle.net/10037/15207.
Forlag
UiT Norges arktiske universitet
UiT The Arctic University of Norway
Samlinger
Copyright 2019 The Author(s)
Følgende lisensfil er knyttet til denne innførselen: