Bruk av kosttilskudd blant middelaldrende norske kvinner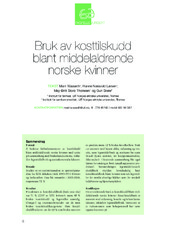 View/Open
Published version
English version (PDF)
Date
2019-03-18
Type
Journal article
Tidsskriftartikkel
Abstract
Formål - Å beskrive forbruksmønsteret av kosttilskudd blant middelaldrende norske kvinner med tanke på sammenheng med brukerkarakteristika, inkludert legemiddelbruk og sosioøkonomiske faktorer.
Metode - Studien er en tverrsnittsanalyse av spørreskjemadata fra 3231 deltakere (født 1943-57) i Kvinner og kreftstudien. Data ble innsamlet i 2003-2006, responsrate 72 %.
Resultat - Prevalensen av kosttilskuddbruk (bruk siste uke) var 71 % (2297 av 3231 kvinner), mens 48 % brukte kosttilskudd og legemidler samtidig. Omega-3 og vitaminer/mineraler var de mest brukte kosttilskuddkategoriene. Blant kosttilskuddbrukerne var det 60 % som brukte mer enn ett produkt mens 12 % brukte fire eller flere. Bruk var assosiert med høyere alder, utdanning og inntekt, samt legemiddelbruk og markører for sunn livsstil (fysisk aktivitet, lav kroppsmasseindeks, ikke-røyker). Tilsvarende sammenheng ble også funnet for omfang av bruk (antall rapporterte produkter). Sammenhengen legemiddel-kosttilskuddbruk skyldtes hovedsakelig høyt kosttilskuddbruk blant kvinner som tok legemidler for mindre alvorlige lidelser samt for muskel/ledd/smerte og hjertekarsykdom.
Konklusjon - Det er omfattende bruk av kosttilskudd blant middelaldrende norske kvinner. Kosttilskuddbruk er assosiert med utdanning, livsstils- og helserelaterte faktorer, inkludert legemiddelbruk. Sistnevnte er et risikomoment som helsepersonell bør være oppmerksomme på.
Background - Our study describes characteristics of DS use among middle-aged Norwegian, including medication use and socioeconomic factors.
Material and methods - This is a cross-sectional analysis of questionnaire data from 3231 women (born 1943-57) from the Norwegian Women and Cancer study, data collected in 2003-2006, response rate 72%.
Results - The prevalence of DS use (during past week) was 71% (2297 of 3231 women), while 48% used dietary supplement and medication concurrently. Omega-3 and vitamin/minerals were the most frequent categories. Among users, 60% used more than one supplement and 12 % used four or more. Use was associated with higher age, education, income, medication use and markers of a healthy lifestyle (physical activity, lower body mass index, non-smoking). Similar associations were found for extent of DS use (number of products). The association between medication and supplement use was primarily due to high supplement use among women taking medication for less serious disorders and for muscle/joint/pain and cardiovascular disease.
Interpretation - Dietary supplements were extensively used among middle-aged Norwegian women. Use was associated with socioeconomic, lifestyle and health-related factors, including medication use which implies a risk that health personnel should be aware of.
Publisher
Norsk Tidsskrift for Ernæring (NTFE)
Citation
Waaseth M, Larsen H, May-Britt Storø, Skeie G. Bruk av kosttilskudd blant middelaldrende norske kvinner. Norsk Tidsskrift for Ernæring. 2019;17(1):8-16
The following license file are associated with this item: