Vestiges of a Previous Industrial Age: A Contemporary Archaeology of Twentieth Century Single Industrial Mining Regions in the Far North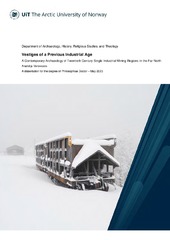 View/Open
Thesis introduction, Papers A, B, C & E (PDF)
Entire thesis in one comprehensive file (PDF)
File(s) with restricted access are under embargo until
2028-09-15
Date
2023-09-15
Type
Doctoral thesis
Doktorgradsavhandling
Abstract
This thesis aims to develop archaeological understandings of mining communities and sites in three (sub-)Arctic regions in Norway (Sør-Varanger), Canada (western Labrador), and Russia (Kola Peninsula), all of which underwent rapid industrial colonisation during the twentieth century. Today the regions continue as resource peripheries despite economic, social, and political changes that made the construction of single industrial settlements no longer tenable. As such, these regions are "vestiges" of a previous industrial age – objects of the past that make up and influence the present that also contain potentials to be remobilized and serve new purposes.
The thesis addresses four basic questions:
Q1: To what extent did material legacies emerging from a period of significant government interest and investment in the regions survive into the present and how do they continue to persist in a time where investment into social services has declined and industrial labour has become more flexible?
Q2: What tensions arise when things from this prosperous past find new purposes in the present or remain recalcitrantly redundant?
Q3: What does the urge to give things from the past "usefulness" tell us about the temporal and geographical boundaries of the resource extraction industry in the (sub-)Arctic?
Q4: How does one do an archaeology of non-abandoned sites?
The thesis addresses these questions from a new materialist perspective and a multi-sited methodological approach that combined fieldwalking, photographic documentation, archival research, and select interviews. Through articles and the discussions in this introductory text, it advances knowledge in three areas that have been called "Pasts in the Present", "The Working Fine and the Broken", and "An Archaeology of Non-Abandonment" to develop understandings of how one can archaeologically engage with ongoing industrial regions in the present. Specifically, it highlights how everyone is physically and materially entangled in the past, how heritage discourses should move away from dichotomies between things that are working fine and things that are broken, and how archaeology and heritage should abandon the notion of "abandonment" as a useful heuristic concept to make room for alternative understandings of how the present grows out from the foundations of the past.
Has part(s)
Paper A: Venovcevs, A. (2020). Extracted Frontiers: A Call from the North. In: Harrison, R. & Sterling, C., Deterritorializing the Future: Heritage in, of and after the Anthropocene (pp 311-317). Open Humanities Press, London. Also available in Munin at https://hdl.handle.net/10037/29990.
Paper B: Venovcevs, A. (2020). Living with Socialism: Toward an Archaeology of a Post-Soviet Industrial Town. The Extractive Industries and Society, 8(4), 100835. Also available at https://doi.org/10.1016/j.exis.2020.10.017.
Paper C: Venovcevs, A. (In press). Industrial Vestiges: Legacies of Ancillary Impacts of Resource Development. Now published in Historical Archaeology, 57, 2023, 336–362. Also available in Munin at https://hdl.handle.net/10037/30322.
Paper D: Venovcevs, A. (2022). Ambiguous Matter: The Life of Mine Waste. Journal of Contemporary Archaeology, 9(1), 39-63. Published version not available in Munin due to publisher's restrictions. Published version available at https://doi.org/10.1558/jca.21645. Accepted manuscript version available in Munin at https://hdl.handle.net/10037/26925.
Paper E: Venovcevs, A. Between Use and Abandonment: An Archaeology of Mothballed Industries. (Manuscript). To be published in Olsen, B., Farstadvoll, S. & Godin, G. (Eds), For Unruly Heritage: Archaeologies of the Anthropocene, 2024.
Publisher
UiT Norges arktiske universitet
UiT The Arctic University of Norway
Collections
Copyright 2023 The Author(s)
The following license file are associated with this item: