Northern Co-residence across Generations In Northernmost Norway during the Last Part of the Nineteenth Century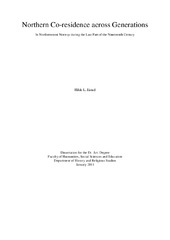 View/Open
Thesis introduction (PDF)
Jåstad, H. L.:'Viewing Ethnicity from the Perspective of Individuals and Households: Finnmark during the Late Nineteenth Century', in P. Axelsson and P. Sköld (eds.), Indigenous Peoples and Demography. The Complex Relation between Identity and Statistics, Berghahn Books (2011) This is the accepted manuscript version. Reprinted with permission. (PDF)
Jåstad, H. L.: 'Endringen i samisk og norsk husholdsstruktur – Nord-Troms og Finnmark i perioden 1865 til 1900', Historisk tidsskrift, 2011, 1 (PDF)
Date
2011-06-08
Type
Doctoral thesis
Doktorgradsavhandling
Abstract
This dissertation is a comparative study of Sámi and Norwegian family living arrangements, explored from the perspective of the elderly and their co-residing behaviour with an own adult child. Up until 1875 nearly two-thirds of all elderly Sámi resided with an own adult child, 10 percentage points lower among Norwegians. In 1900, fewer than half of the elderly lived together with an own adult child. The change happened in the Sámi as well as in the Norwegian population, however it was most pronounced among the Sámi. The change was primarily characterized by a decline in the number of married sons staying in their parental homes, and the decline was persistent in all economic sectors. What we see is an increase in dependent elderly people living as lodgers in households of supposedly non-relatives. A focus on household economy has revealed that intergenerational co-residence was positively associated with an occupation in farming, or combined fishing and farming, compared with an occupation in fishing. The association between political economy and intergenerational co-residence focuses on the effects of legal rules governing inheritance. Unlike the Norwegian system that benefitted the oldest son, the youngest son's right has been determined as a Sámi system. Thus, differences in intergenerational co-residence between Norwegians and the Sámi, at least up until 1875, might therefore be explained by differences in inheritance practice. The dissertation further argues that the decline in intergenerational co-residence between 1875 and 1900 may be explained by young men's increased opportunities to take on different occupations, and for some this may have been more attractive than staying at home. Secondly, we know that the Norwegian state increased its efforts to assimilate the Sámi population into Norwegian law and culture. Along with this assimilation process, we also see an increased interaction in the private sphere, e.g. interethnic marriages. Thus, as ethnic differences in intergenerational co-residence had disappeared in 1900, the consequence was an approach towards a similar family system for the Sámi and the Norwegian population.
Avhandlingen er en komparativ studie av hvordan den samiske og norske befolkningen organiserte sine familiehushold i perioden 1865 til 1900. Den metodiske innfallsvinkelen har vært å ta utgangspunkt i eldre personers samboerskap med egne voksne barn. Mot slutten av 1800-tallet endret husholdsstrukturen seg i Nord-Troms og Finnmark, og stadig færre eldre bodde sammen med egne voksne barn. Endringen viser at fram til 1875 bodde ca. 2/3 av alle eldre samer sammen med eget voksent barn. Nivået var 10 prosentpoeng lavere blant nordmenn. I 1900 var ikke bare de etniske forskjellene utvisket, færre enn halvparten av de eldre bodde i såkalt flergenerasjonshushold. Endringen skyldtes primært en nedgang i foreldres samboerskap med gifte sønner, og nedgangen skjedde uavhengig av økonomisk tilknytning. I økende grad finner vi eldre mennesker bosatt som losjerende i hushold der det familiære slektskap synes å ha vært fraværende. Ved å fokusere på husholdsøkonomi viser analysene at flergenerasjonshushold var sterkere forankret blant bønder og fiskerbønder enn blant fiskere. Frem til 1875 viser analysene at det samiske familiesystemet i høyere grad enn det norske var tilknyttet flergenerasjonshusholdet. Dette kan forklares ut i fra ulik praksis knyttet til eiendomsoverdragelse, hvor preferanse for yngste barn, fortrinnsvis yngste sønn, er tilskrevet en samisk tradisjon, ganske ulikt det norske systemet. Avhandlingen argumenterer for at nedgangen i flergenerasjonshusholdet etter 1875 kan forklares ved at unge menn i den perioden sto ovenfor flere yrkesvalg, og at det for enkelte må ha fortont seg som mer attraktivt å flytte et annet sted enn å bli værende på hjemplassen. Dernest vet vi at den norske stat strammet det politiske grepet i en prosess med å assimilere den samiske befolkningen til norsk språk og kultur. Parallelt med denne assimileringsprosessen ser vi en økt samhandling i den private sfæren, vist blant annet gjennom økt ekteskapsinngåelse på tvers av etniske grupper. Konsekvensene av både de økonomiske, politiske og sosiale strømningene ble en tilnærming mot et likt familiesystem i den samiske og norske befolkningen.
Publisher
Universitetet i Tromsø
University of Tromsø
Collections
Copyright 2011 The Author(s)
The following license file are associated with this item:
Related items
Showing items related by title, author, creator and subject.
Krogsæter, Tor-Ivar

(

Lecture; Forelesning

,

2016-06-19

)

Kolstad, Charlotte Renland

(

Master thesis; Mastergradsoppgave

,

2014-05-15

)

I 1994 ble rundt 800 000 mennesker drept i et lite sentralafrikansk land, størrelsen på landet kan sammenlignes med Troms fylke i Norge. Hendelsen er kjent som folkemordet i Rwanda. I senere tid har det blitt utgitt et relativt bredt spekter av litteratur på feltet, hvor forskere har hatt forskjellige ståsteder som har resultert i ulike synsvinklinger. Prosjektet tar for seg sentrale oppfatninger ...

Krogsæter, Tor-Ivar

(

Master thesis; Mastergradsoppgave

,

2015-11-27

)

Avhandlinga søker å finne svar på spørsmålet «Hvordan endret romernes syn på seksualitet seg i løpet av den tidlige keisertida, fra seinrepublikken til de første århundrene av prinsipatet?» ved å studere lovarbeid og litteratur i den aktuelle perioden og om vi kan se tendenser til endring i disse. Bakgrunnen for dette spørsmålet, ligger i keiser Augustus' morallover «lēx Iūlia dē marītandīs ōrdinibus» ...