The birth of mathematical physics : Kepler's proof of the planets' elliptical orbits from causal hypotheses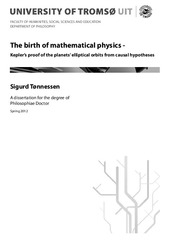 View/Open
Thesis introduction and appendixes (PDF)
Tønnessen, S.: 'Kepler's Analysis of the Dynamics of Planetary Motion', In 'Kepler's Heritage in the Space Age (400th Anniversary of Astronomia nova)' (2010), eds. Alena Hadravová, Terence J. Mahoney, and Petr Hadrava. Prague: National Technical Museum in Prague. (PDF)
Date
2012-06-07
Type
Doctoral thesis
Doktorgradsavhandling
Abstract
Johannes Kepler (1571-1630) was an iconographic scientist and one of the forefathers of the scientific revolution. His groundbreaking work on astronomy has been extensively used in the study of scientific progress. I have continued this tradition in this thesis, and have studied Kepler's original work in order to understand his theory development. More specifically, I have studied Kepler's analysis on planetary orbits, how he deduced the correct planetary orbits from his analyses, and what exactly his theories stated. Kepler has been regarded as a great mathematician, but his work on the planetary orbits has been considered as being mixed with lucky guesses and mysticism. I have proved in this thesis that these prejudices are unfounded. I have demonstrated that Kepler managed to develop a coherent theory that connected force models to specific kinematical expressions, and that these expressions produced the correct elliptical orbit. I claim that Kepler proved the elliptical orbit on the basis of mathematical - physical models that introduced basic elements of classical mechanics, which were in many ways equivalent to the later Newtonian mechanics. I have also revealed several features of the sophisticated scientific method Kepler used to achieve this goal in this thesis, and I claim that Kepler´s new astronomy was not merely an introduction a new theory, but a new way of systematically analysing dynamical systems in order to reveal the underlying causes for the behaviour of the system. In the process of his scientific work, Johannes Kepler revolutionized the natural sciences by developing some of the most elementary parts in mathematical physics and the foundations for the modern scientific method. In many ways, Johannes Kepler gave birth to mathematical physics.
Description
Papers 1,2 and 4 of this thesis are not available in Munin:
1. Tønnessen, S.: 'Re-analysis of Kepler's Distance Laws and the birth of mathematical physics' (manuscript)
2. Tønnessen, S.: 'Kepler's primary measure of time in planetary orbits' (manuscript)
4. Tønnessen, S.: 'A new edifice for physical science – Kepler's proof of the elliptical orbit from physical principles' (manuscript).
Publisher
Universitetet i Tromsø
University of Tromsø
The following license file are associated with this item: