A population-based study of health care utilisation according to care level, socio-economic group, and continuity of primary care. The Tromsø Study.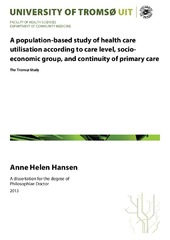 View/Open
Thesis introduction (PDF)
Hansen AH, Halvorsen PA, Førde OH.: 'The ecology of medical care in Norway: wide use of general practitioners may not necessarily keep patients out of hospitals', Journal of Public Health Research (2012), 1:e28 (PDF)
Hansen AH, Halvorsen PA, Ringberg U, Førde OH.: 'Socio-economic inequalities in health care utilisation in Norway: a population based cross-sectional survey', BMC Health Services Research (2012), vol. 12:336 (PDF)
Date
2013-11-01
Type
Doctoral thesis
Doktorgradsavhandling
Abstract
Forskning på bruk av helsetjenester har ikke vært høyt prioritert i Norge. Kunnskap om forbruksmønstre i ulike befolkningsgrupper er derfor begrenset. I tre separate studier ønsket vi å estimere forbruket av sju ulike helsetjenester, utforske forbruket av helsetjenester i ulike sosioøkonomiske grupper, samt teste assosiasjonen mellom kontinuitet i fastlegerelasjonen og bruk av spesialisthelsetjenester. Spørreskjemadata fra den populasjonsbaserte Tromsø-undersøkelsen (2007-8) muliggjorde tverrsnittsanalyser av selvrapportert forbruk, både i primærhelsetjenesten og spesialisthelsetjenesten. Den første studien viste at de fleste innbyggerne besøkte fastlegen en eller flere ganger i løpet av et år. Likevel fant vi høye rater for polikliniske spesialistbesøk og innleggelser. Ratene for poliklinisk besøk hos spesialist var omtrent halvparten av de tilsvarende ratene for besøk hos fastlegen. Kvinner brukte de fleste helsetjenester mer enn menn. Vi konkluderte med at selv om de fleste konsulterte fastlegen er det ikke nødvendigvis slik at de derved unngår besøk i spesialisthelsetjenesten. I den andre studien fant vi at det er større sannsynlighet for et besøk hos fastlegen for de med lav inntekt og utdanning, hvor behovet for helsetjenester sannsynligvis er størst, mens det er de med høy inntekt og utdanning som lettest kommer til spesialist. Hovedresultatet i studie 3 var den positive sammenhengen mellom en langvarig relasjon til den samme fastlegen og redusert bruk av spesialisthelsetjenesten. Denne avhandlingen har vist at lovbestemte rettigheter blir utfordret av ulik bruk av helsetjenester knyttet til kjønn, alder, inntekt, utdanning og kontinuitet i fastlegerelasjonen. Våre funn kan indikere overforbruk, underforbruk og feil bruk av helsetjenester siden det er andre faktorer enn behovsindikatorer knyttet til forbruk.
Description
Paper 3 of this thesis is not available in Munin:
3. Hansen AH, Halvorsen PA, Aaraas IJ, Førde OH.: 'Continuity of GP care is related to reduced specialist health care utilisation' (manuscript)
Publisher
UiT-Norges arktiske universitet
UiT-The Arctic University of Norway
Series
ISM skriftserie, nr 141
The following license file are associated with this item:
Related items
Showing items related by title, author, creator and subject.
Norum, Jan

;

Antonsen, Margaret Aarag

;

Tollåli, Geir

;

Al-Shibli, Khalid

;

Andersen, Gry

;

Svanqvist, Kristin-Helene

;

Helbekkmo, Nina

(

Journal article; Tidsskriftartikkel; Peer reviewed

,

2017-07-29

)

1 Norum J, et al . ESMO Open 2017; 2 :e000222. doi:10.1136/esmoopen-2017-000222 Open Access Abstr A ct Background P embrolizumab is a new drug approved in several countries for second-line therapy in non-small cell lung cancer (NSCLC) being programmed cell death ligand (PD-L1) positive. This drug has a high cost, and the cost- effectiveness ratio has been debated. Patients ...

Hansen, Anne Helen

;

Bradway, Meghan

;

Brož, Jan

;

Claudi, Tor

;

Henriksen, Øystein

;

Wangberg, Silje C

;

Årsand, Eirik

(

Journal article; Tidsskriftartikkel; Peer reviewed

,

2016-10-31

)

<b>Background:</b> The prevalence of diabetes and the use of electronic health (eHealth) resources are increasing. People with diabetes need frequent monitoring and follow-up of health parameters, and eHealth services can be of great significance in this regard. However, little is known about the extent to which different kinds of eHealth tools are used, and how the use of eHealth is associated ...

Jokstad, Asbjørn

(

Journal article; Tidsskriftartikkel; Peer reviewed

,

2017-10-27

)

Systematic reviews (SR) may potentially contain reports of primary trials with ethical problems. The Cochrane Collaboration SRs are considered as the highest standard in evidence-based health care resources. All SRs completed during the last 5 years (2013–2017) under the management of the Oral Health Group of the Cochrane Collaboration were identified. All primary trials included in the Oral Health ...