Drilling oil into Arctic minds? State security, industry consensus and local contestation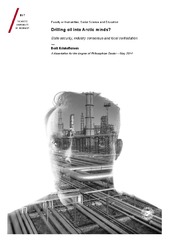 View/Open
Thesis introduction and appendix (PDF)
Berit Kristoffersen and Brigt Dale: "Post Petroleum Security in Lofoten: How identity matters", Arctic Review on Law and Politics, vol. 5, 2/2014 pp. 201–226. (PDF)
Date
2014-12-12
Type
Doctoral thesis
Doktorgradsavhandling
Abstract
The thesis' title Drilling Oil into Arctic Minds? points to the central role of geographical imaginaries in state and industry efforts to push oil production northward, and the extent to which local communities and civil society respond to these imaginaries. Critically examining how imaginaries describe and legitimize opportunities for future oil and gas extraction and expose scenarios of economic growth and activity, the thesis identifies the territorial, political and discursive strategies of the state, industry and society, looking at emergent (re)constitutions of economic- and geopolitical space in the Norwegian north. By employing analytical tools and insights from critical geopolitics and security studies, I unpack the processes and practices of the state in relation to other actors. The thesis is composed of four articles, which independently examine these dynamics. Through the articles I illustrate the power of the Norwegian state in how it frames a hierarchy of security concerns where climate change and environmental concerns are pitted against economic, territorial and energy security interests. This is reflected through new geopolitical imaginaries, relating to environmental concerns and energy security such as opportunistic adaptation in the Arctic. The combined contribution of the articles is to unpack state-industry relations that are characterized by consensus. I also show how the established state-industry geopolitical construct of the Norwegian Arctic as an economic space is challenged, if not destabilized, as the Norway's northern seascapes might not be as promising as initially asserted. Focusing on the political dynamics taking shape in northern Norway, I show that Lofoten, Vesterålen and Senja have been targeted by a unified industry/state complex. The people and political stakeholders in Lofoten respond in ways that reflect their own regional challenges, highlighting concerns that extend beyond 'the petroleum age' in Norway. The thesis emphasizes the significance of local narratives and perceptions when it comes to how oil is understood to provide security. These perspectives from Lofoten are important when assessing the role of oil and gas development for the future and how local narratives can contribute to a post-petroleum discourse as well.
Description
Papers 1, 2 and 3 of this thesis are not available in Munin:
1: Berit Kristoffersen, Stephen Young: Geographies of security and statehood in Norway's 'Battle of the North', Geoforum 41 (2010) pp. 577–584. Available at:
http://dx.doi.org/10.1016/j.geoforum.2009.11.006
2: Berit Kristoffersen, 'Opportunistic Adaptation: New discourses on oil, equity and environmental security', Chapter 8 in Karen O'Brien and Elin Selboe (eds), 'The Adaptive Challenge of Climate Change', Cambridge University Press: New York/London (forthcoming).
3: Berit kristoffersen, 'Securing' geography: framings, logics and strategies in the Norwegian high north", In Powell, R. and K. Dodds (eds), 'Polar Geopolitics? Knowledges, Resources and Legal Regimes', Edward Elgar: Cheltenham and Northampton, MA, 2014 pp 131-148. Available at
http://dx.doi.org/10.4337/9781781009413.00016
Publisher
UiT Norges arktiske universitet
UiT The Arctic University of Norway
Collections
Copyright 2014 The Author(s)
The following license file are associated with this item: