Contradictory management requirements and organisation of daily work in Norwegian nursing homes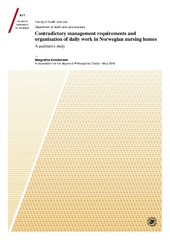 Date
2016-11-04
Type
Doctoral thesis
Doktorgradsavhandling
Abstract
Hvordan forholder ansatt i sykehjem seg til motstridende styringskrav i organisering av det daglige arbeidet? En doktorgradsavhandling ved Institutt for helse- og omsorgsfag viser at ansatte i sykehjem utvikler kreative arbeidsmåter for å klare å balansere faglige verdier med markedsideologiske styringskrav (NPM). Balanseringen innebærer etablering av ulike mestringsstrategier, utvikling av nye forståelser av eget arbeid og roller som profesjonsutøvere og sykepleieledere. Gjennom intervju og observasjon av 18 ansatte i tre ulike sykehjem viser avhandlingen at de ansatte skapte rom for at NPM inspirerte styringskrav og tradisjonell profesjonsstyring kunne sameksistere. De ansatte justerte forventningene fra tradisjonell profesjonsstyring ved å inkludere NPM-inspirerte styringskrav i daglige rutiner for dokumentasjon, innleie av ekstravakter og bruk av faglige ressurser for øvrig. Avhandlingen bidrar med ny kunnskap om hvilke muligheter og begrensninger NPM-inspirerte reformer har i sykehjem. Slik kunnskap er viktig for å forstå virkningen av reformet og hvordan organisering av helse- og omsorgtjenestene kan forbedres. Økt forståelse for hvordan ansatte og ledere forholder seg til og utvikler nye arbeidsmåter i møte med markedsinspirerte styringskrav er relevant med tanke på pågående arbeid med å sikre effektive omsorgstjenester av høy kvalitet i norske sykehjem.
Description
The papers 1 and 3 of this thesis are not available in Munin.
Paper 1: Kristiansen, M., Obstfelder, A., Lotherington, A. T.: "Contradicting logics in everyday practice: The complex dynamics of performance management and professionalism in Norwegian nursing homes". Available in
Journal of Health Organization and Management 2016, 30(1):57-72.
Paper 3: Kristiansen, M., Westeren, K. I., Obstfelder, A., Lotherington, A. T.: "Coping with increased managerial tasks- tensions and dilemmas in nursing leadership". (Manuscript). Published version available in
Journal of Research in Nursing 2016, 21(7):492–502.
Publisher
UiT The Arctic University of Norway
UiT Norges arktiske universitet
Collections
Copyright 2016 The Author(s)
The following license file are associated with this item: