Dynamics of the IL-33/ST2 network in the progression of human colorectal adenoma to sporadic colorectal cancer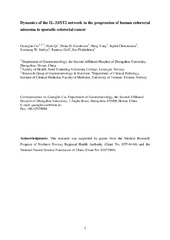 Date
2014-10-17
Type
Journal article
Tidsskriftartikkel
Peer reviewed
Abstract
Most sporadic colorectal cancers (CRCs) develop from preformed adenomas. Cytokines are involved in the transition from adenoma to CRC. Interleukin-33 (IL-33) is a newly discovered proinflammatory cytokine belonging to the IL-1 cytokine family and involved in the development of chronic inflammation and cancer. The aim of this study was to evaluate the dynamics of the IL-33/ST2 axis during the sequence of progression from normal colorectum to adenoma to carcinoma and to investigate the association of IL-33 and ST2 expression with clinicopathological parameters and prognosis. The results demonstrated that the levels of IL-33 and ST2 in adenomas (n = 50), determined by real-time PCR, were significantly higher than those of normal controls (n = 30); the levels of both IL-33/ST mRNA in CRCs (n = 50) were higher than in normal controls but lower than in adenomas. Further analysis revealed that the expression level of ST2 in CRCs was associated with tumor/node/metastasis (TNM) stage. The log-rank test showed that neither the IL-33 nor the ST2 expression level was correlated with overall survival in patients with CRC. The increased expression of IL-33/ST2 in adenomas and CRC tissues was confirmed by immunohistochemistry and was observed in both the tumor stromal cells and adenomatous/cancerous cells. Notably, increased densities of IL-33-positive and ST2-positive microvessels were found in the stroma of adenomas and CRCs. In conclusion, increased expression of the IL-33/ST2 axis along the colorectal adenoma–carcinoma sequence might be involved in the neoplastic transformation via the participation of this axis in the regulation of angiogenesis.
Publisher
Springer Verlag
Citation
Cancer Immunology and Immunotherapy, February 2015, Volume 64, Issue 2, pp 181–190
The following license file are associated with this item:
Related items
Showing items related by title, author, creator and subject.
Andersen, Sigve

;

Dønnem, Tom

;

Al-Shibli, Khalid Ibrahim

;

Al-Saad, Samer

;

Stenvold, Helge

;

Busund, Lill-Tove

;

Bremnes, Roy M.

(

Journal article; Tidsskriftartikkel; Peer reviewed

,

2011

)

Angiopoietins and their receptor Tie-2 are, in concert with VEGF-A, key mediators in angiogenesis. This study evaluates the prognostic impact of all known human angiopoietins (Ang-1, Ang-2 and Ang-4) and their receptor Tie-2, as well as their relation to the prognostic expression of VEGF-A. 335 unselected stage I-IIIA NSCLC-patients were included and tissue samples of respective tumor cells and ...

Gabrielsen, Endre

(

Master thesis; Mastergradsoppgave

,

2012-06-01

)

I 1983 oppdaget zur Hausen sammenhengen mellom Humant Papillomavirus (HPV) og livmorhalskreft. På denne tiden visste man ikke at det var HPV som var årsaken til at Helaceller kunne leve in vitro. Ny forskning relaterer HPV til en rekke andre cancertyper. En stor andel anal-, oropharyngeal-, penis-, vaginal-, og vulvacancer skyldes HPV. Det er også påvist HPV i tumorvev fra øsofagus, larynx, lunge, ...

Hoem, Gry

(

Master thesis; Mastergradsoppgave

,

2012-06

)

Fragile X syndrome (FXS) is caused by an expanded CGG repeat (>200 repeats) in the 5' un-translated portion of the fragile mental retardation 1 gene (FMR1) leading to deficiency or absence of the FMR1 protein (FMRP). FMRP is an RNA carrier protein that controls the translation of a number of other genes that regulate synaptic development and plasticity. Autism occurs in approximately 30% of FXS ...