State Membership: A Question of Individual Choice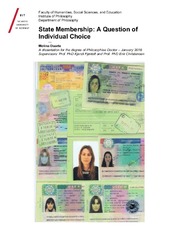 Åpne
Thesis introduction and conclusion (PDF)
Paper II: Duarte, M.: "'Territorial Rights of Liberal Democratic States: Challenging the Right to Exclude Immigrants". (Manuscript). Also available in Contrastes: Revista Internacional de Filosofía 2015(20)suppl.:163-83. ISSN: 1136-9922. (PDF)
Dato
2016-09-19
Type
Doctoral thesis
Doktorgradsavhandling
Sammendrag
The growing hostility against immigrants around the world has brought the debate on immigration and borders back to the core of moral and political philosophy. On the one hand, there is increasing pressure for international human mobility driven by, for example, globalisation, war and conflicts, economic development, family union, career development, and climate change. On the other hand, there are territorial states attempting to control the movement of persons across borders in order to preserve their sovereignty. The tension arises when, bond by human rights, liberal democratic states can no longer manage the effects of these pressures and determine emigration and immigration policies only according to their national agendas without compromising international relations. This thesis aims to examine some ways in which the free movement of persons across borders could be reconciled with states' jurisdictions. While international human mobility is defended as a claim for freedom of choice and equality of opportunities, states are seen as contingent institutions currently responsible for the distribution and enforcement of these rights. The main claim of the thesis is that freedom of mobility across borders can be reconciled with territorial states if state membership becomes a question of individual choice (Ch. I). The rest of the thesis is devoted to arguing that state membership should (Ch. II, III) and can (Ch. IV) become a question of individual choice. At the normative level, I contest the role of state borders (Ch. II) and of state membership (Ch. III) as endorsing legal barriers for international human mobility and political participation. At the circumstantial level, my concern was directed to addressing the welfare objection to freedom of mobility and membership (Ch. IV).
Beskrivelse
The papers I, III and IV of this thesis are not available in Munin.
Paper I: I. Duarte, M.: "Right to Hospitality, Right to Membership: a Critical Review of Kant's and Benhabib's Cosmopolitan Accounts on Immigration and Borders.". Published version available in "Varieties of Liberalism: Contemporary Challenges. Alnes, J. H. and Manuel Toscano (eds.), ISBN: 978-1443858120. Newcastle: Cambridge Scholars Publishing, p.:204-222.
Paper III:Duarte, M.: "State Membership: Contesting Naturalisation as the Access Door to Electoral Rights at the State Level". (Manuscript).
Paper IV: Duarte, M.: "Open Borders and Welfare States: Can't They Really Get Along?" (Manuscript).
Forlag
UiT Norges arktiske universitet
UiT The Arctic University of Norway
Samlinger
Copyright 2016 The Author(s)
Følgende lisensfil er knyttet til denne innførselen: